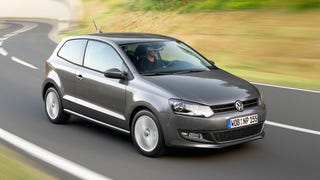 The 2010 VW Polo represents the fifth generation and 35th year of continuous production of the German subcompact. Below, walk through the big evolution of this little car.
The new tiny, European 2010 VW Polo poked out its little head yesterday at the 2009 Geneva Motor Show and we've got to say, we're impressed with the little city car.
The all-new 2009 VW Polo's set to be revealed at the Geneva Motor Show, but it got an early reveal today on a huge ad on the side of the Geneva Palexpo center.