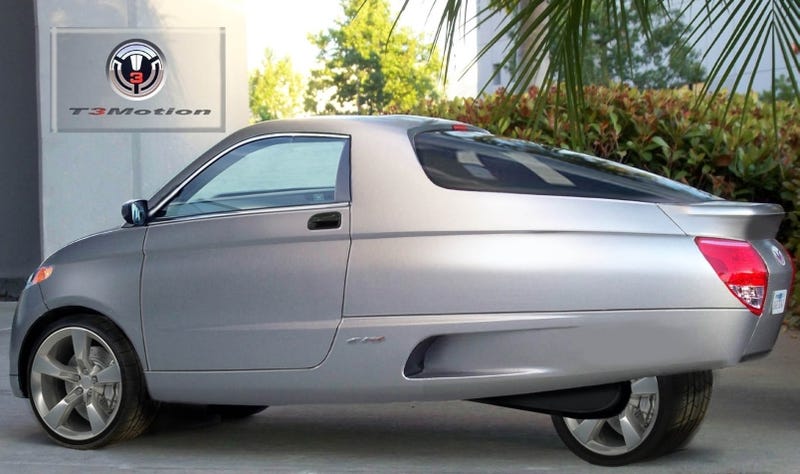 Okay, it's not a real car yet, but the T3 Motion CT3's an all-electric city car with a top speed of 45 MPH and designed to compete for the Progressive Automotive X-Prize. It also sports a funky semi-El-Camino rear end.
T3 isn't new to the world of electric vehicles, providing dorky electric chariots to police forces and whoever thinks Segways are too cool. Now they're branching out into passenger-type vehicles, with the CT3, a three-wheeled electric car using the companies patented controller unit and Lithium-Polymer battery pack. When looking at the above render, pay no attention to the swiped and resized Chevy Camaro Concept wheels and that the rear one is on backwards, those are mere trifles. What's important is the goofy, semi-camino-ized fastback shape that gives the CT3 a strong aerodynamic performance. The car will be aimed at winning the Progressive Automotive X-Prize which sets a target at 100 MPG for a consumer car, this one plans to hit it with the energy equivalent of the 100 MPG measure.
ELECTRIC 3-WHEELED CT3 AIMED AT COMMUTER VEHICLE MARKET

COSTA MESA, Calif., June 30 — T3 Motion, Inc., has proudly unveiled their latest electric vehicle, the "CT3." The stylish CT3 is based on T3 Motion, Inc.'s LSV/NEV, the CT Micro Car. The CT3 is the latest electric vehicle designed, developed, and manufactured by California-based T3 Motion, Inc. With over 3,000 field hot swap-able Lithium-Polymer batteries and 1,200 electric vehicles in the service since 2006, T3 Motion, Inc. has solidified its role as a global leader in Electric Vehicle Design, Battery Technology and Power Management Systems.

After the successful launch of the professional-grade T3 Series Electric Stand-up Vehicle (ESV) designed for law enforcement and security applications, T3 Motion, Inc. quickly followed up with the 2008 debut of a four-wheel LSV/NEV targeted at Public Safety, the CT Micro Car. Less than a year later, T3 Motion, Inc., has rolled out the three-wheeled CT3 which reflects T3 Motion, Inc.'s vision for the future of personal commuter and professional fleet transportation.

In an era of fluctuating fuel prices and the need to maximize Returns on Investment, T3 Motion, Inc. electric vehicles represent cost-effective, environmentally-friendly opportunities to transport people, gear, and cargo. "Made in the USA" clean technology continues to be forecasted as a growth sector in not only the current economic climate but also the future.

"The CT3 represents our latest vision for electric vehicles from T3 Motion, Inc. From bumper to bumper, from wheels to roof, we are very excited for the future of vehicles like the CT3," said Ki Nam, T3 Motion, Inc. C.E.O. "Our T3 Motion Power Management System is at the heart of the CT3. What we have learned from the T3 Series ESV and CT Micro Car NEV, we are applying to the CT3. The result is T3 Motion's first true consumer level vehicle."

A version of the CT3 is competing for the Progressive Automotive X Prize in the Alternative Vehicle Class. The "CT3-S" is specifically designed and engineered to be capable of speeds up to 80 miles per hour yet delivering the energy equivalent of over 100 miles per gallon.

"We are very honored to be competing in the Progressive Automotive X Prize. It is energizing for T3 Motion, Inc. to be alongside so many different interpretations of creating the 100 mile per gallon car," said Ki Nam, T3 Motion, Inc. C.E.O. "With electricity being the most readily available source of fuel today, our zero gas emission CT3-S exemplifies the 'real world' opportunities electric vehicles have both today and in the future."

About the CT3:

The commuter version of the CT3 will be limited to speeds up to 45 m.p.h. [72 k.p.h.] and is designed with T3 Motion, Inc.'s proprietary Power Management System. The CT3 features all-wheel drive, full front and rear suspension, full front and rear independent hydraulic disc brakes and a compact design—perfect for daily commuter "around town" applications.

The quiet environmentally-friendly zero gas emission vehicles include regenerative braking, highly rigid aluminum frame for maximum strength versus weight ratio, impressive ride quality, and distinctive T3 Motion, Inc. styling.

For information and sales updates, please visit www.t3motion.com.

About the Progressive Automotive X Prize:

The Progressive Automotive X Prize features a diverse group of 111 teams that have made it to the first round of qualifications. The teams represent 136 vehicle entries and 14 different fuel sources, from 25 U.S. states and 11 countries all competing to be a legitimate 100 miles per gallon commuter vehicle. Established automakers, emerging start-ups, universities and inventors are among those represented. All of the teams are competing for $10 million, judged in stages throughout 2009 and into 2010. Please see progressiveautoxprize.org for more information.
[Source: T3 Motion]