Because Audi hates joy and freedom, they won't sell the RS4 Avant here in the USA. Our friends over at Quattroworld just saw an RS4 Avant here in the USA. Wait, what?
The RS4 is a lust-object here in America because 1) it's forbidden fruit and 2) it's got the 450 horsepower V8 drivetrain out of an RS5, hidden away in the body of a relatively unassuming, practical wagon. Diehard Audi fans have been screaming for the car ever since the sport wagon debuted, and their cries did not go unheard by Audi itself.
Quattroworld explains that they recently spoke to the executive at Audi USA who decides what comes to the US and what doesn't. The exec said with a smile that he was considering bringing over an RS4 Avant to play with. This appears to be that car, parked at a Cars & Coffee GTG near Audi USA's Virginia headquarters.
We adore German Muskel-Kombis like every gearhead should and we want it in American showrooms. Quattroworld has put together a little list of things you can do to help convince that smiling Audi exec to bring the RS4 Avant here. Join the Bring The Audi RS4 Avant To America Facebook page and write in that you would buy one there as well as on the Audi website.
G/O Media may get a commission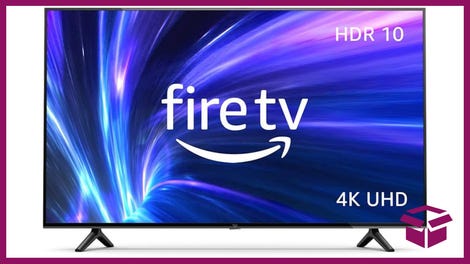 42% Off
Amazon Fire TV 50" 4K Smart TV
The E63 AMG and CTS-V wagons are getting lonely here, Audi. Bring them a little cousin to play with.
Photo Credit: Quattroworld