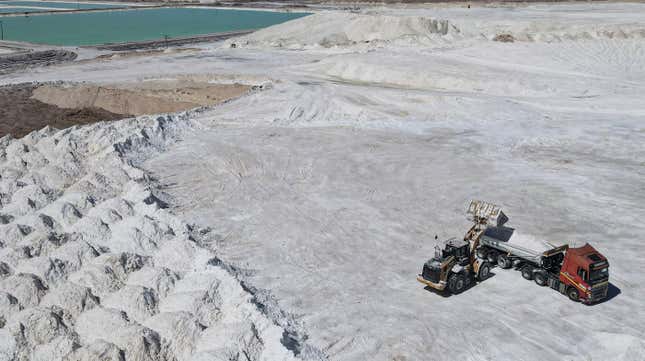 Automakers are pushing full steam ahead on their EV plans. But reality is starting to set in when it comes to sourcing raw materials to build the millions of EVs, and specifically EV batteries, automakers hope people will buy. While some companies may be ignoring a possible crisis, others are acknowledging the reality, like Stellantis CEO Carlos Tavares. The Detroit News brings us a frank assessment from Tavares, who doesn't believe there's enough raw materials to go around for the industry's EV plans.
In case you missed it:
Speaking at the Freedom of Mobility Forum — which the Detroit News describes as "a platform the automaker created alongside its decision to leave the European Automobile Manufacturers Association and to change its approach to public affairs and lobbying" — Tavares voiced his concerns about raw materials, specifically lithium:
We know that we need lithium. We know that we are not producing as much as we need. We have right now 1.3 billion cars (that are) internal combustion engine powered on the planet. We need to replace that with clean mobility. That will need a lot of lithium. Not only the lithium may not be enough, but the concentration of the mining of lithium may create other geopolitical issues.
This isn't to say that Tavares doesn't expect Stellantis to meet its EV goals. He maintained that his company is on track to meet its self-appointed 2030 EV targets, as well as a 2035 European Union ban on the sale of new internal-combustion cars and European and U.S. EV sales targets. But he voiced his frustration with what he characterizes as inflexible regulations around the world that solely focus on EVs.
"Our societies are losing a lot of great potential by not having technology-neutral regulations. This is a big, big loss of creativity, of scientific power that we are deciding upfront by imposing one single technology instead of having a technology-neutral regulation that would create healthy competition," he said.

Aside from lithium and other raw material supplies, Tavares briefly addressed the other elephant in the room: EV affordability. The CEO places blame on resource scarcity. "The affordability is not there because the raw materials are scarce and very expensive, and I would add very volatile," he said.