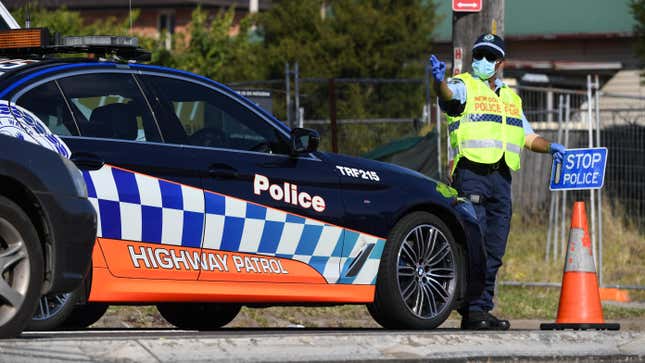 Sovereign citizens are gumming up the legal works in New South Wales, forcing cases to take three to four times as long to get through the legal system through frustrating schemes and mixed-up legalese.
In case you missed it:
New South Wales Magistrate Mark Douglas spoke about the delays and burdens on the justice system brought by sovereign citizens on ABC RN's The Law Report. Folks who have bought into the pseudo legal scam are slowing down even the simplest traffic cases to a crawl:
Magistrate Douglas says that about 50 per cent of legal complaints to the NSW judicial commission are filed by self-represented people. In the last six months, judicial complaints have increased between 20 to 30 per cent, and a lot of those are filed by sovereign citizens contesting legal matters.

"You'll pick up a file, and it might be a parking fine, and there might be 300 pages on it in an envelope. And you start to suspect that it's going to be pseudo-legal arguments," Magistrate Douglas tells ABC RN's The Law Report.

Many of his fellow NSW local court magistrates say they've also seen an increase in the number of sovereign citizens putting forward pseudo-legal arguments since the start of the pandemic in March 2020.

"There are 50 magistrates who have dealt with three to four hundred [of these] matters in the last six months. So, yeah, there's been a very sharp rise," he says.

One SC is suing Douglas for $10 million, though the lawsuit documents have no indication they've worked their way through the Australian legal system.
Aussie SCs use the same arguments as Americans of the same belief system—citing everything from the U.S. Constitution to the Magna Carta to the Bible as reasons why they do not have to abide by the same rules as everyone else. They declare the country of Australia (or at least its constitution) illegitimate. They follow the idea that the sheriff is the highest law they need to follow—and then appoint themselves sheriff. Australian SCs are just as expert in talking in circles as the U.S. brand, though the Australian police seem prepared to handle the bullshit, as one officer in Victoria demonstrated earlier this year. 
It's not just traffic tickets of course, but in Australia as in the U.S., most citizens come into contact with police via traffic stops. So sovereign citizens are usually well-versed in arguments against laws requiring a driver's license or a license plate on their vehicles or why they aren't beholden to certain laws. Even though these arguments have never won a case in court, people still believe in the ruse deeply. Others profit by selling sovereign citizens useless how-to courses and instruction on "natural" or common law. One man here in the U.S. died in a confrontation with police over his fake SC license plate this past March.