Some 20 Cizeta V16Ts—the 16-cylinder supercar made by ex-Lamborghini employees with the help of, bizarrely enough, legendary composer Giorgio Moroder—have been completed in the past 30 years, all under the watchful guidance of mechanic, eccentric, and friend to many a celebrity Claudio Zampolli. Now, thanks to Hagerty, comes the delightful news that Zampolli is still around, and still taking orders for a Cizeta, if you're interested.
The Cizeta V16T is not street legal to drive in the U.S. because it does not meet emissions or safety standards, but that hasn't stopped the car from being an object of fascination for many a supercar buyer, including Jay Leno, who also famously spatted with Zampolli in the late '90s.
That dispute led to a $150 million lawsuit, one of many legal battles Zampolli endured over the decades, in addition to, at one point, a bankruptcy. Hagerty details all of this in a feature story that you should read, having recently caught up with Zampolli at his workshop in Fountain Valley, California.
What's he working on now? A V16 of course, an engine that has only really been used in Cizetas and a few concept cars since their last run in production cars in the 1920s and 1930s.
Zampolli also says he's more than willing to build another Cizeta if the right buyer comes along. A new Cizeta in 2018 would be weird and amazing, methinks.
G/O Media may get a commission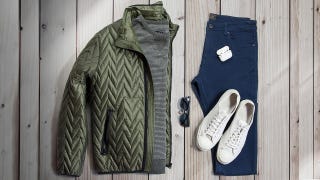 60% off
Jachs NY Fall Sale 60% Off
From Hagerty:

Despite everything, Cizeta persists. The workshop is there, as is the tooling. As Zampolli says, the company is still "breathing." He responds in the affirmative as to whether a customer could still order a Cizeta today.

"There was time delay due to the relocation of the entire equipment," he says. "But the V16T is still available—of course on special order only."
Zampolli has had a long association with Hollywood celebrities, for whom he has fixed supercars over the years. In fact, the first Cizeta was a joint project with Moroder, a disco and electronic music pioneer who, among other things, co-wrote "Take My Breath Away", Flashdance's "What a Feeling," and recently teamed with Daft Punk.
Zampolli and Moroder's relationship has been contentious, though.
From Hagerty:
First shown in California in December of 1988, the Cizeta-Moroder V16T narrowly beat the Diablo to unveiling. Consumate car guy Jay Leno presided over the event, and the V16T was later brought to the Los Angeles Auto Show, where it generated serious interest. Fourteen initial deposits of $100,000 were placed for the car.

Problems began almost immediately. First, Zampolli's unyielding vision of the V16T as the ultimate expression of handmade exclusivity was not a pathway to profit. Car and Driver estimated the price at $280,000 in 1989 (that's almost $573,000 today). In the UK Car said the Cizeta would be $400,000 ($818,000). As of 2002, a V-16T would set you back $649,000 to order new ($905,000). The issue wasn't the cost of the cars, it was making them fast enough.

Production was slow enough to frustrate Moroder who, despite his Italian ancestry, had spent enough time in Berlin to develop a strong sense of Germanic pragmatism. Unbeknownst to Zampolli, he began speaking to engineers from Porsche, looking into the use of fiberglass for the body instead of the finicky aluminum. The eventual disagreement would dissolve the partnership.
The dispute would be the first of many over Cizeta, including the lawsuit with Leno, a salacious one that The New York Daily News described in 1999 this way:
Zampolli is seeking $150 million in damages and an injunction barring Leno from making any more "disparaging comments" about him, according to the suit filed in Los Angeles Superior Court. The suit alleges that, at a recent antique and classic-car show in Van Nuys, Calif., the "Tonight Show" host pointed a finger at the "world-renowned automobile engineer" and said, "You [bleeeping] guinea!," "Son of a b——" and "[Bleeping] crook!

" Zampolli, "who had just had a kidney transplant," also alleges that Leno continued, "Aren't you dead yet?

" and "Go ahead and sue me you [bleeping] guinea!

" Zampolli also claims that his development of a car called the Cizeta V-16 was jeopardized by a "critical mistake in judgment" having a decade-long "affair" with Leno's assistant, Helga Pollock, who also is being sued. "The relationship cost Zampolli his marriage," the engineer says, adding that when he "decided to break off" his relationship with Pollack, she "did not take the breakup . well.
The lawsuit was eventually dismissed.
I'm hoping that someone, somewhere, has the money to buy a new Cizeta. Zampolli is a lot of things, but he seems to be decent at making the cars, as outlandish as the V16T was.
I myself am ordering five.