Covering the Detroit Auto Show reinforced my belief that older cars are generally cooler than new ones. Oh, there were plenty of exciting new concepts and debuts in the Motor City, like the new Corvette and the the NSX concept. I also got to sit in my first Mercedes-Benz SLS AMG, which was absolutely sick. But walking around the floor of Cobo Hall, I found myself wishing some of these companies would haul out their historic cars for us to ogle as well.
I did get a very nice surprise when I ran into one of my favorite cars in person for the very first time. But when I investigated further, it turned out to be a very bittersweet experience. More bitter than sweet, in fact.
I am talking about the Toyota 2000GT that was converted into an electric vehicle. I'll give you a moment to let your shock set in.
Okay, ready now? The EV 2000GT is nothing new. It's been around at least a year, and it was also on display at last year's Goodwood Festival of Speed. It is the result of the Toyota Automobile Association's "Crazy Car Project," wherein the standard 2.0-liter DOHC Yamaha engine was swapped out for an electric motor with solar panels built into the hood.
G/O Media may get a commission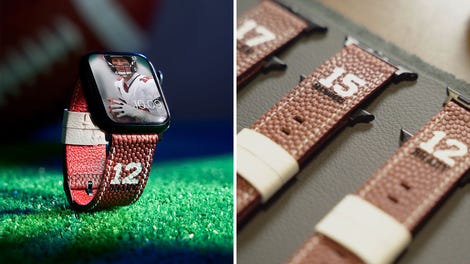 Official NFL PRODUCTS
Official NFL Apple Watch Bands
I first noticed it in Detroit when I was going up an escalator from the media center to the show floor, and I saw it off in the distance – it had one hell of a crazy paint job, but its shape was unmistakable.
"Holy shitballs, you guys, I think that's a 2000GT!" I exclaimed to some fellow auto journalists around me, who just nodded and went back to grumbling to one another about how websites are just a fad.
But the 2000GT meant something to me. For all we rag on their boring-ass beigemobiles, I do consider myself a Toyota guy. My family owned a bunch of them growing up, including a seriously cool Cressida wagon. I used to lust after the Supra and the MR-2 when they were around, and I'm an advocate for the FR-S now.
And the 2000GT is arguably the king of all Toyotas. No, there's nothing to argue about — what Toyota commands more respect and awe than this car? The 2000GT debuted with a bang at the 1965 Tokyo Motor Show and "declared boldly that the Japanese auto industry had arrived," as Japanese Nostalgic Car so eloquently puts it.
Yes, the overall shape is a kind of Japanese ripoff of the Jaguar E-Type, but it looks great in its own right. And if you're going to rip off an existing sports car design, you could do a lot worse than the E-Type.
The car famously made a star turn with Sean Connery's James Bond behind the wheel in 1967's You Only Live Twice. Only about 350 were ever made. They command extremely high prices at auction today. Clearly, the Toyota 2000GT remains special to a lot of people.
I can't say it's my absolute favorite, all-time dream car, but it's one I've always greatly admired and wanted to see in person.
So I was pretty excited when I finally got my chance in Detroit, but it wasn't at all what I expected. I can't really describe the spiritual kick in the nuts I felt when I saw this thing. I'm all for electric cars, and running solar panels in the hood is a great idea — but couldn't you guys have picked something else, anything else, for the donor car? Anything else besides a Toyota 2000GT, a sportscar icon that's rare enough on its own? I feel like you ruined a car that really didn't have it coming.
How do I describe the way this felt? Keith Barry over at Wired called it "Solar-Powered Sacrilege", and I'd say that's pretty on-point.
It was like losing my virginity, but getting an STD in the process.
It was like meeting the Dalai Lama, but then he punches you in the throat and tells you to get a real job.
It was like seeing an old best friend for the first time in years, along with the girl you grew up with and are still in love with, and then finding out that they're engaged.
I mean, an electric 2000GT. Jesus. Come on, man.
What car least deserves an EV conversion in your book?