According to Sport Bild, triple world champion Sebastian Vettel's next teammate at Red Bull F1 will be a faithful Australian lap dog named Daniel Ricciardo.
Daniel Ricciardo, who is actually a human being, is currently racing with some success at Red Bull's junior team Scuderia Torro Rosso. Expect him to garner a number of points finishes (and never an overall win) for Red Bull proper next year.
There were some other rumors that Michael Schumacher - er, excuse me, I mean Sebastian Vettel's teammate next year would be Kimi Raikkonen, but RB probably scrapped that plan when they saw the Finn outdrive the young German at the most recent Hungarian Grand Prix.
It is unclear if Daniel will change his name to 'Rubens' in honor of F1's most famous second-place teammate.
G/O Media may get a commission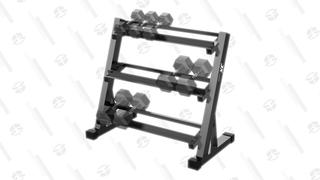 20% Off
JX Fitness Dumbbell Rack
Gains but tidy
Has a three-tier design to help store more weights more conveniently, can safely support up to 1000lbs of weight, which should be enough for most people, has a triangle base for stability, and also features anti-scratch feet which is great if you've built your own studio or workout in your garage.
Photo Credit: Getty Images/Wikipedia
(H/T!)