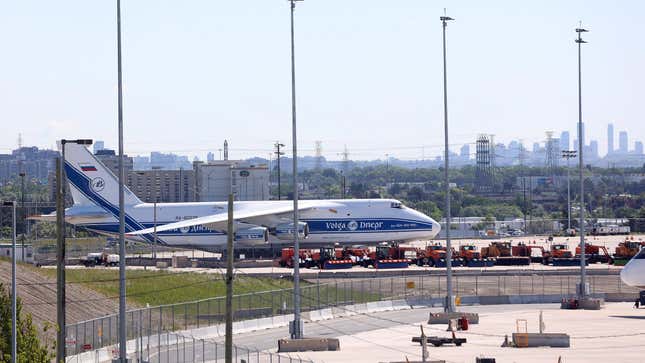 The sanctions imposed on Russia after its invasion of Ukraine have significantly impacted that country's economy, particularly its aviation industry. Russian commercial carriers, like state-owned Aeroflot, have resorted to cannibalizing aircraft for spare parts. Most countries in North America and Western Europe have also banned Russian airlines from their airspace. The most extreme example is a Russian-owned Antonov An-124 stranded in Canada, which landed before the sanctions and now can't take off, racking up extreme parking fees in the process.
In case you missed it:
BlogTO reports that a Volga-Dnepr Airlines Antonov An-124 is still sitting on the tarmac of Toronto Pearson International Airport, 395 days after it landed. The Antonov arrived in Canada to deliver COVID-19 test kits from China on February 27th, 2022. However, the Canadian government closed its airspace to Russian-owned, chartered or operated aircraft on that same day. With Russia still waging its invasion and the sanctions still in place, the Volga-Dnepr cargo plane has been unable to leave Toronto for over a year.

Since it was grounded, the Antonov An-124 has been sitting in long-term parking in the northeast section of Toronto Pearson Airport, and parking a 200-ton aircraft isn't free. According to BlogTO, parking fees at the airport amount to $1,065.60 Canadian per day. After 395 days, the current total is at $420,912 Canadian, or $309,588 in U.S. currency. Unlike the oligarch-owned superyachts that governments have seized, Transport Canada has stated the cargo plane remains the property of Volga-Dnepr Airlines, meaning the cargo carrier will eventually have to pay its massive Canadian parking bill — whenever it's finally able to retrieve the plane.
For drivers in the Greater Toronto Area, the Antonov An-124 is visible from Ontario Highway 427. The giant cargo plane will remain a reminder for Torontonians about the ongoing war in Ukraine for the foreseeable future.