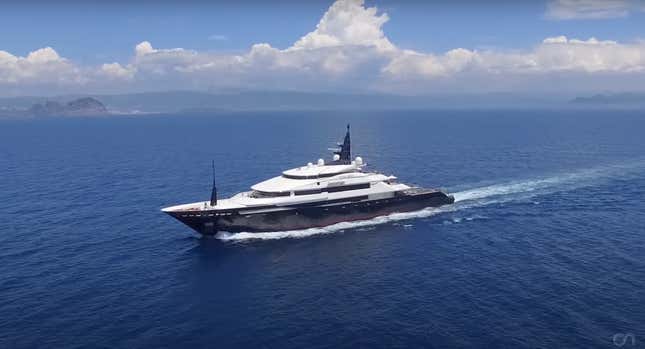 Remember last year when seizing yachts owned by Russian Oligarchs was all the rage? Well, authorities are now trying to unload some of these ludicrously luxurious machines and the government of Antigua and Barbuda have quite the deal for you. It announced Monday that if no one comes forward to claim the superyacht the Alfa Nero it will go to auction.
It seems the vessel has been unmaintained and unoccupied since February of 2022. The owner of the Alfa Nero superyacht is technically unknown, but the U.S. government has a distinct hunch that the craft belongs to Andrey Guryev, a billionaire who made his money in fertilizer. Guryev doesn't just have screw you money — at an estimated worth at least $10 billion he has throw-away-an-$81-million-superyacht money. Damn. That's a lot of money! Guryev denies owning the yacht, saying he's simply the beneficiary of the trust that owns the yacht. Which sure, seems above board to me. Whatever he is, he (or his trust) is about to be one yacht down, as the Antigua and Barbuda government have dubbed the empty and seemingly abandoned 267-foot yacht a hazard to other vessels moving in and out of Falmouth Harbour in Antigua.
Russian oligarchs keep ownership of such assets veiled in layers of red tape and shell companies. The date of the Alfa Nero's abandonment in the Caribbean alone — February 2022, when sanctions were being handed out by governments around the world against Russian warmongers — points to its Russian rich guy origins. This big boat has sat for a year with no one coming forward to claim or maintain it, so Antigua and Barbuda announced Monday that the owner of the yacht, whomever that may be (wink wink), has ten days to claim the Alfa Nero before it goes up for auction and is sold to the highest bidder.
So, what do you get for your high bid? You get a yacht built by Dutch shipbuilder Oceanco, which also put together Jeff Bezos' controversial sailing yacht. The Alfa Nero features an onboard spa, jacuzzi, nearly 40-foot infinity pool and more, according to the Robb Report:
Delivered in 2007 by Oceanco, Alfa Nero features a striking exterior by Nuvolari Lenard and interior styling by Alberto Pinto that together have landed the yacht a number of awards. The beautiful behemoth notably features six staterooms, accommodation for 28 crew, a hydraulically operated pool and a large helipad aft. Alfa Nero was sold in 2011 to its current owner with an asking price of $115 million, according to Marine Industry News. 

Guryev and his family have used the Alfa Nero in the past, and the boat has been featured in social media posts by Guryev's son and daughter-in-law. The feds say the proceeds of the auction will stay in Antigua and Barbuda, but it reserves the right to acquire the funds at a later date.
Buying a yacht may seem like an expensive purchase (and it is!) but that is nothing compared to owning and operating that same yacht. Costs associated with maintenance, staffing and fuel — not to mention expensive art and furnishings — can easily push yacht ownership costs into the tens or hundreds of millions of dollars a year. But such yachts are consider good for soaking up liquid capital, according to people with enough capital to need soaking up.