I know the last thing these kids want to be is cute. They're a racing team, dammit, and they're here to kick ass on the racetrack and eat Pop Rocks. And nobody's seen Pop Rocks in years. I respect that. Even so, I can't help but look at that team photo and feel my squee gland secrete awwwrotonin.
The Ford Taurus Is Reborn — But Only For the Middle East
These 10 boys and girls are from the March CE Primary school, which is lucky enough to be right around the corner from Rolls-Royce HQ in Goodwood, UK. The school participated in the Greenpower IET Formula Goblin competition, a program where 9-11 year old kids build and race little electric cars. The fundamental design is based on a kit, but a some customization is allowed. Oh, and then they get to race the cars at Goodwood Motor Circuit.
Team March's support from Rolls-Royce helped them win the coveted 'Best Bodywork' prize, and you can see why, with that rakish and novel-design Rolls-Royce grille classing up the front of the car. Rolls also helped the team itself to look good, making them custom racing suits in their own leather working department.
G/O Media may get a commission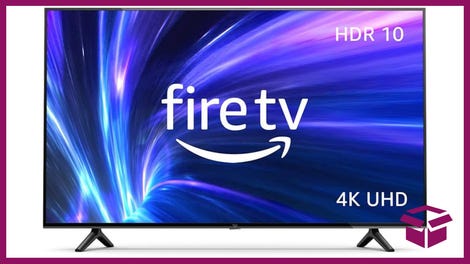 42% Off
Amazon Fire TV 50" 4K Smart TV
The team also got a tour of the factory and Rolls engineers helped consult on the construction of the car, which might make this Rolls-Royce's first all-electric vehicle. I'm sure Tesla's engineering department is already attempting to acquire the car for evaluation.
These kids were pretty damn lucky to be so close to Rolls-Royce; I hear the school team that was close to the local Bristol factory just got a handful of lug nuts flung at them by Old Man Bristol and a stern admonition to get the hell off their property, if they know what's good for them.
It looks like these kids had a blast. This seems to be a great program; I suspect there's probably similar ones in the US, but I haven't seen any major company interaction to this degree so far. So, good job, Rolls.