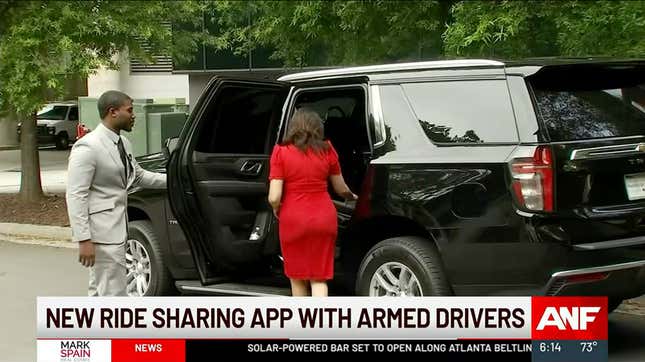 Do you live in Atlanta (OK, let's be real, we're basically talking about Buckhead and a bunch of the white-flight suburbs outside of Atlanta here), and are you so terrified of crime that you can't bear the thought of taking an Uber, knowing the car is unarmored, and the driver is unarmed? Is your brain so poisoned by Fox News that you legitimately believe Atlanta is a literal warzone overrun by Black Lives Matter Antifa gangs? Well, great news! Atlanta has a new ride app designed specifically for taking your money.

The Ford Flex Was So Unexpectedly Cool
As Vice reports, the app is called Black Wolf, and it's basically Uber with guns. If you need to venture into the terrifying hellscape that is Atlanta inside the Perimeter, all you need to do is order a ride on Black Wolf, and an armed driver will show up at your house with an armored car to safely take you to dinner at Aria. It's the same story on the way home, with you riding safely and securely in the back seat, stopping only so your driver can shoot the villainous carjackers trying to kidnap your family.
If you visit the website, Black Wolf says it's not just for "corporate executives, high-net-worth individuals, [and] celebrities." It's also for "women, school kids, and regular people who want peace of mind in this crazy world." Drivers can either be armed or unarmed, and there's even a school shuttle service to ensure little Chrystaleigh gets to and from school without being captured by the Biden crime syndicate.
As you can imagine, the founder, Kerry King Brown, described his new app in a completely normal way. "Who are mostly on the news getting robbed, getting raped? The average person. What I'm creating is a necessary evil. It's a necessity," Brown told Atlanta News First.
On what we're sure is a completely unrelated note, the New York Post reports that Brown previously worked for noted sane person and definite non-lunatic Congresswoman Marjorie Taylor Greene.
Ironically, despite what people such as Brown would have you believe, Atlanta isn't more violent than it's ever been. In fact, hundreds of thousands of people who live ITP go about their daily lives not even thinking about violent crime. Some stuff does still happen, but as Vice points out, both property crime and violent crime in Atlanta are at near-historic lows. Some neighborhoods have seen a small increase, but there's a very low chance that anyone who can afford an armed driver is ever going to go anywhere near those places.
Hell, they're even selling $700,000 condos in Bankhead these days. The gentrification behind that change is another discussion for another day, but if you actually need an armed driver to safely get around Atlanta, why are people spending more than half a million dollars to move to Bankhead of all places? But hey, at least Metro Atlantans who are too paranoid to function in regular society can now get a ride from some random guy with a gun so they can maintain their delusions that Atlanta is a crime-infested hellhole.