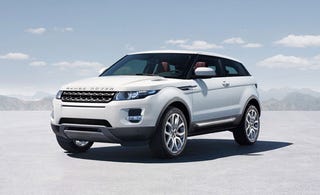 The sleek Range Rover Evoque two-door compact SUV debuted this afternoon, looking quite a bit like the LRX concept that previewed it. The company promises it'll be fuel efficient and highly capable, but a FWD Range Rover is slightly blasphemous.
The new Range Rover Evoque debuted in coupe form with none other than Posh Spice (a.k.a. Victoria Beckham) on hand, which should give some hint as to the direction the car is going.
The model is available in both two-door and four-door form. Base Evoques will be offered with FWD — making it the first two-wheel-drive Range Rover in history, though it's not a lock that this version will be available in the United States. Engines will be a low-C02 diesel mill for Europe and a V6 for the U.S., but we're not yet sure where the six-cylinder will come from.