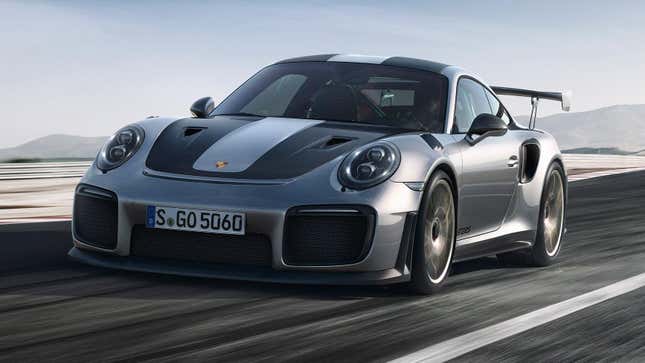 We all knew a hybrid Porsche 911 would eventually happen. Now, we're getting a better idea of what that would look like, as a report from Autocar says a 911 GT2 RS Hybrid is indeed coming, and it'll be the fastest-accelerating, most powerful road-going version of the 911 to date.
In case you missed it:
A Porsche "insider" told Autocar the newly developed hybrid drivetrain is expected to put out more than 700 ponies. That shouldn't come as too much of a surprise, as the most recent 911 GT2 RS pumped out 690 horsepower. Ten more ponies shouldn't be too much of a jump for Porsche's flagship.
It'll be a different system than the plug-in hybrid units found in the Cayenne and Panamera, according to Autocar. The 911's system will be based around a mild-hybrid system, and it will include an electric motor to boost the internal combustion engine — similar to the technology used in Porsche's Le Mans-winning 919 Hybrid and its current Porsche's 963 LMDh car, but more powerful. In its current form the 649 horsepower 4.6-liter V8 gas engine is supported by a 68 horsepower Bosch electric motor that's activated above 80 mph.
The outlet reports that while it is still early days for GT2 RS Hybrid development, 911 Turbo prototypes fitted with the new mild-hybrid drivetrain use a gearbox-mounted electric motor and an air-cooled lithium ion battery underneath the front seats. In the production car, the battery will reportedly be under the rear seats to achieve a 39:61 weight distribution.
According to Road & Track, the 2026 timing of the GT2 RS Hybrid makes a whole lot of sense. The GT2 RS is typically introduced near the end of the current 911's production run.
All in all, the new car will have "significantly more power" than the previous GT2 RS as well as a "significant increase in torque." However, you might be able to get it at a slightly more reasonable price, with the hybrid model expected to cost at least $300,000.
Jalopnik has reached out to Porsche for comment, but a spokesperson for the automaker said Porsche doesn't "comment on speculation about potential future products" as a "matter of policy."