A week ago, I wrote that in order to create a 2001 Pontiac Firebird Trans Am, all you need to do is melt down some cheap plastic in an oil barrel and pour it onto four spare tires with a forklift. It didn't go over well with Jalopnik's largely-American reader base.
Let me explain why I said what I said. It all comes down to your personal taste, but as far as I'm concerned, only two and a half of the four Trans Am generations' designs managed to stand the test of time.
The 1969 cars might be rare, but I don't think the first Firebird Trans Ams had much on the '69 Camaros in the looks department. Pontiac's real weapon arrived in the second half of 1970, because while there's quite a lot to like about the second-gen Camaros, the competing Firebirds took the bad boy look to a different level.
G/O Media may get a commission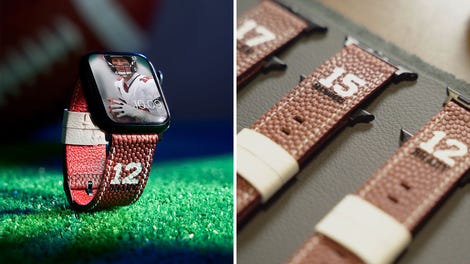 Official NFL PRODUCTS
Official NFL Apple Watch Bands
While gauges that gauge, spoilers that spoil and scoops the scoop did it for America for the next six years or so, Pontiac really had to come up with a fresh look for '77 in they wanted to keep the second generation run successfully for another half a decade.
I think we can agree that those four square headlamps, Oldsmobile's 403 cubic inch V8 and Burt Reynolds heading eastbound and down took care of the job of keeping the Trans Am cool until David Hasselhoff could take over in 1982.
While race cars don't have T-tops, Firebirds could fly, and that's all that mattered to Pontiac's target audience.
That's one-and-a-half generations getting the stamp of approval already!
The eighties deserved a new Trans Am, and General Motors delivered the best one yet in 1982. While I'm a huge fan of the third-generation Camaro and would love to rock something like this myself, I still find the Firebirds' lines much cleaner and classier. Pontiac managed to pull off creating something very sporty without going over the top with scoops of wings.
Then, they got lucky. NBC wanted Michael Knight to drive the new Corvette, but since GM wasn't ready with the C4 in time, they had to settle for the new Pontiac. And the F-body never looked better than as the early Knight Industries Two Thousand.
The Trans Am started to lose it for good in 1991, when GM decided to refresh it by adding an overhang the size of Hasselhoff's minibar bills to its front to make it look more nineties, based on the 1988 Banshee IV concept's design.
Some say the Firebird's fourth generation was stunning when it came out in 1993, especially compared to the equivalent Camaro. Those people obviously don't have a clue what a vehicle with the right proportions looks like, but the early Trans Ams are nothing compared to what happened to the Firebird after those dual-inlet Ram Air hoods returned as part of the WS6 performance package in 1998.
Cheap performance is no excuse for going all Fast and Furious three years before Vin Diesel did. But here's what some of you think:
———————————————————————————————-
You should start here.

My dumb ass would put on a cowboy hat and do celebratory donuts with the last cool Trans Am all day long.
The one they made until 1990.
Photo credit: coconv and SenseiAlan via Flickr. Animation by Jason Torchinsky.
---
Contact the author at mate@jalopnik.com.