A small plane was forced to make an emergency landing on a toll road in Texas last weekend, but instead of hitting pavement the plane briefly brushed the top of a semi's tractor-trailer before tumbling to the road and crashing.

The plane crash occurred in Harris County, Texas, on the Grand Parkway toll road just north of Houston Sunday morning. The pilot radioed the control tower that their plane lost power and they'd make an attempt to land on the toll road. A group of RC plane enthusiasts, the Spring Area Radio Kontrol Society, happened to be near by flying their own, much smaller planes. They managed to capture video of the Bonanza 35 aircraft attempting, and eventually failing, to make an emergency landing, KHOU 11 reports:
SARKS President Jim Sneed frequents a runway at Dyess Park, right by where the single-engine plane went down on 99. He said it's common to see planes flying around due to the proximity to Hooks Airport.

"We get small planes over here all the time," he said. "People that are doing practice and training and stuff. They fly over us and around us all the time."

The RC plane runway got a front-row seat to the miraculous crash landing.

"He was aiming to land it in the concrete out there on the 99. And it just didn't time out right. There was an 18-wheeler — it was a big trailer there. And that's where it touched down," Sneed said.

It almost looked like a Michael Bay-style stunt or something from a Fast & Furious movie — except the filmography isn't quite as good, and our hero in the plane didn't stick the landing only to have an epic fist fight on top of the trailer at highway speeds.
Instead, the plane hit the top of the trailer and tumbled to the road where it immediately went up in a fireball with a plume of dark smoke. The radio tower nailed the situation perfectly over the radio.
G/O Media may get a commission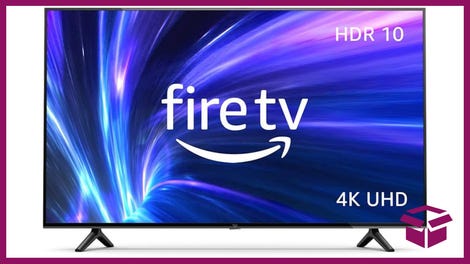 42% Off
Amazon Fire TV 50" 4K Smart TV
"Not good. They're on big fire. Big time. Emergency services now as fast as you can," a dispatcher can be heard saying according to Live ATC communication.
Luckily, we can enjoy this cinematic crash with guilt-free, as everyone somehow made it out OK. Freeways and highways are favorite spots for smaller planes to make emergency landings, as pilots are less likely to hit trees or houses. Occasionally, however, they do hit cars, like this plane hitting a Lexus in California in 2021. Or this crash also in California last year, where a plane skidded across Freeway 91 in Los Angeles and hit a truck.