Ferrari's greatest (now ex-greatest) fan and legendary racing mogul Preston Henn filed a lawsuit against the automaker in July because they refused to sell him a LaFerrari Aperta—even after Henn mailed Sergio Marchionne a check for a deposit of $1 million. That lawsuit has since been dropped, but Henn still wants to sue. He just doesn't yet know for what. Also, the new NSX is better anyway, you chumps.
The Ford Taurus Is Reborn — But Only For the Middle East
Ferrari told Henn, who is a champion race car driver, famed car collector and flea market baron, that he was "not qualified" to buy the Aperta. Furious and scorned, Henn sued for $75,000 in damages, alleging that:
The publication of the statement that Preston Henn is not qualified to purchase a LaFerrari Spider is an untrue statement which harms Henn's reputation, and holds him up to ridicule, disrespect, and disrepute in his profession, trade, occupation, avocation, and among his friends and business and social associates.
The defamation suit was halted at the end of last month because of how expensive it was. But Henn isn't finished. Oh, no.
Speaking to Road & Track, Henn says that he is still "very unhappy with Ferrari." He asked his lawyer, "...can we sue them on other things? He said, yes. We're going to sue but on a different thing. Which I don't know yet what it is."
G/O Media may get a commission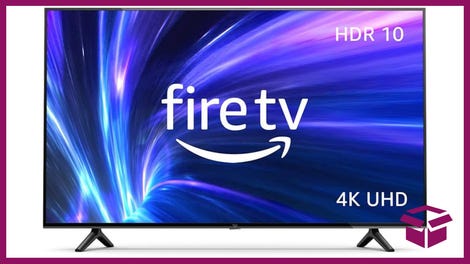 42% Off
Amazon Fire TV 50" 4K Smart TV
But what Henn does know is that he's done with Ferrari. Finished! A 50-year relationship between the two just ended in a very messy divorce, with one party looking to get even.
Sad!
Bullishly, Henn wants to make it clear that this shit is personal. "Yeah, this isn't going away," he said. "It ain't [about] the fucking car."
In fact, just to show Ferrari how shitty it truly is, Henn makes clear that he has already moved his affections onto another car. A better car: the new Acura NSX. (I'm just going to give you the full R&T quote so you can get the glorious, full effect of it.)
"Here's something that may be hard for you to believe, but I got that La Ferrari and it was delivered to my house… and I didn't like it," he declared. "And I got here and I couldn't get out of the car. I had to call the police to get me out of the car. What happened is I didn't realize that door was as heavy as it was. Once I realized it, they could pull the door and get out and I had no problem. It is just not a comfortable car.

"In fact, I just sent a letter [to Acura] about how I like the NSX. It is the best damn car I have ever had. It is unbelievable. It is really, really a great car and it is $200,000 versus… well, the last Ferrari I got from them, not the La Ferrari, the last one I got, I forgot what it's called, it was a Spider, whatever it is, but it was $750,000. And this is so much better at $200,000."
Damn, dude. Ferrari should have just sold him the stupid Aperta.