Normally the headline would be "Florida Man Files Hilarious Lawsuit Against Ferrari." But this isn't just any Florida Man. This is Preston Henn, the Sultan of Swap, flea market baron, champion race car driver and famed car collector. And he's so pissed that Ferrari denied him the opportunity to buy the LaFerrari Spider, he demands a trial by jury.
First brought to light by Autoweek, this is truly a great story of a scorned and hot-tempered Florida Man against Ferrari's famously, er, picky customer approval practice.
Henn is suing Ferrari North America for in excess of $75,000 because:
The publication of the statement that Preston Henn is not qualified to purchase a LaFerrari Spider is an untrue statement which harms Henn's reputation, and holds him up to ridicule, disrespect, and disrepute in his profession, trade, occupation, avocation, and among his friends and business and social associates.
G/O Media may get a commission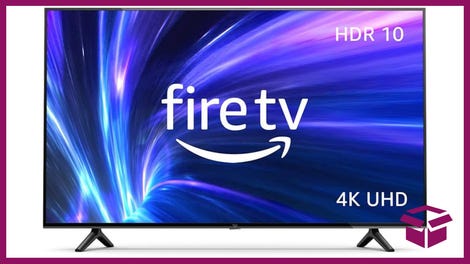 42% Off
Amazon Fire TV 50" 4K Smart TV
Henn, in other words, contends that not letting him buy a LaFerrari Spider hurts his stature as a Ferrari collector.
And apparently Henn fancies himself the Ferrari customer. He's been a member of the Tifosi for six decades, was buddies with Luigi Chinetti and owns or has owned the Ferraris on this impressive list:
1965 275 GTB
1971 Daytona Spider
1972 BBC 512
1985 F 40
1986 black Testarossa
1986 white Testarossa
1995 F 50
2003 Enzo
2005 FXX
2015 458 Speciale
2015 488
2015 LaFerrari
550 Barchetta
599
BBLM
Maserati MC 12
Super America
Schumacher Ferrari Formula 1

The 275 GTB 6885 Speciale, in particular, is the car that Sergio Marchionne supposedly once told Henn was his "favorite Ferrari."
When Henn first heard about the LaFerrari Spider, he went over to his local Ferrari dealership, intent on buying it to join the hardtop LaFerrari that he already owns. A reasonable desire for any serious Ferrari collector.
Ferrari didn't think so. It told him he was "not qualified."
Henn was confused. Surely this was a mistake, given his credentials in Ferrari's little black book! Autoweek says he got busy, writing a bunch of letters to Ferrari and other FCA higher-ups, including Marchionne himself. In that particular letter, Henn included a $1,000,000 check as a deposit on the car.
The check was later returned, along with a message, telling Henn that he really shouldn't be mailing large sums of money like that, it could get lost.
Henn's lawyer writes:
By deeming Henn not qualified and publishing to third parties that Preston Henn was not qualified, Ferrari, acting through its employees and agents, uttered to unrelated third parties a false and defamatory statement, harming Henn's reputation in the universe of Ferrari aficionados.
Publicly insulted, Henn is retaliating.
We'll see how this all shakes out.
You can find the full court document here.
(H/t to Ryan!)