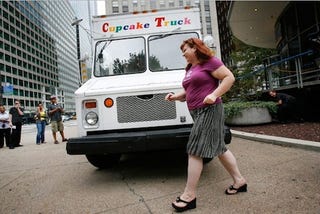 Freedom. Liberty. Chocolate frosting. Three of our nation's cornerstones were "smooshed" by the city of Philadelphia on Tuesday, when it seized the truck of the popular Cupcake Lady. Do not get between Americans and their convenient desserts.
Kate Carrara runs the Buttercream Cupcake Lady service out of a truck she trundles through Philadelphia every day, announcing her location via Twitter. That's how police knew where she'd be at noon on Tuesday, when they surrounded her converted postal truck with a blockade.
"Three enforcement guys came out with badges blazing," Carrara told the Philadelphia Daily News. "Scared the crap out of me. The three cops with them were looking at me like, 'We can't believe we're doing this.'
"And I'm like, there's crack deals a block away and three cops are surrounding the Cupcake Lady? I mean, really?"
The officers impounded the van and drove away with dozens of uneaten desserts, indifferent to the city's never-ceasing demand for cream cheese.
In any other place, someone who calls themself the Cupcake Lady might have folded like softened butter. But this is Philadelphia, and so of course the woman who sells cupcakes from a truck is also a lawyer with 4,000 followers on Twitter, with whom she was quickly plotting escape scenarios.
"I'm licensed as a roamer, like an ice-cream truck that plays a song, sells some stuff and moves on. I have a permit to park at LOVE Park on Wednesdays but most of Center City and University City are off-limits," Carrara said.
The former lawyer said that the badge flashers were business-compliance officers from the city's Department of Licenses & Inspections. But L&I Commissioner Fran Burns claimed, "It wasn't us. We don't confiscate trucks."
The mayor's office agreed, directing questions to the Philadelphia Parking Authority.
Suspicious finger-pointing aside, Carrara wrote a $200 check and then returned to the mean, ganache-less streets of Philly today, where she vowed to fight for amending the vending law. Life, liberty and the pursuit of happiness through red-velvet cupcakes demand no less.
(Thanks to Joe for the tip) [Philly.com]
Photo Credit: Alejandro A. Alvarez