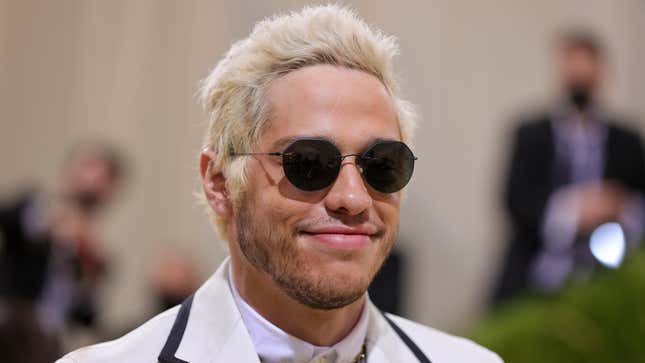 Pete Davidson, who you may know from Saturday Night Live or that time he dated Kim Kardashian for a hot minute, had a bit of an oopsie over the weekend. According to the Los Angeles Times, he lost control of his car in a residential neighborhood, ran over a fire hydrant and hit a house. You know, just regular celebrity things.

In case you missed it:
TMZ was the first to report on the story and obtained some incredibly boring photos that we can't use. You can click the link if you're really desperate to see them, just don't blame us for the terrible writing you'll be exposing yourself to.
Anyway, where were we? Oh yeah, Pete Davidson drove his car into a house. His new girlfriend Chase Sui Wonders was in the car with him, and no injuries were reported. Also, no arrests were made. Drugs and alcohol were reportedly not factors in the wreck, although the incredibly astute Beverly Hills police spokesperson Lt. Reginald Evans did suggest that speed may have been a factor.
The car was originally described as a four-door Mercedes, which may lead some to assume it was the S-Class that Davidson bought because his grandfather had always dreamed of owning one. But KTLA's video from the scene actually shows what appears to be a Mercedes-AMG GT Four-Door Coupe. So, apparently, that Marmaduke check was enough to allow him to buy a second Mercedes.
You'd think I wouldn't have to say this, but you really shouldn't drive cars into buildings. Even if you're a celebrity. It's only Monday, and we're already on our second instance this week of someone driving a car into a building. Cars are supposed to stay on the road, people! It's not that hard! I've been driving for more than 15 years, and even though I've made my fair share of mistakes, I've never driven a car into a building.
Also, as someone who is often inside buildings, I would personally appreciate it if no one drove a car into any of the buildings I'm in. Am I being selfish by making that request? Absolutely. But I think I'm allowed at least that level of selfishness.