GM is planning to crush all of the severely damaged C8 Corvettes from last months storms, rather than taking the chances of having potentially defective cars end up in peoples' hands.
In December, a tornado badly damaged parts of Chevrolet's Bowling Green, Kentucky plant – where Corvettes are produced. It's estimated that about 120 of those new Corvettes were damaged. Factory staff are still inspecting the remaining completed cars to make sure they are okay to be shipped out.
Check out this drone footage from a weather blogger showing dozens of brand new C8s stripped down awaiting their demise.
Rows and rows of cars – cars that could have been yours maybe – are just sitting there, mostly dismantled with just days left to live.
Photos on the ground also capture some crazy visuals of brand new cars that are unfortunately no more.
G/O Media may get a commission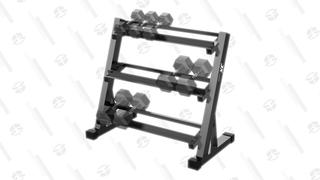 20% Off
JX Fitness Dumbbell Rack
Gains but tidy
Has a three-tier design to help store more weights more conveniently, can safely support up to 1000lbs of weight, which should be enough for most people, has a triangle base for stability, and also features anti-scratch feet which is great if you've built your own studio or workout in your garage.
The storm damage put another big obstacle in front of GM keeping up with production of the Corvette. Owners slated to receive the now-destroyed and soon-to-be permanently crushed cars are being contacted by their local Chevy dealers to re-submit orders.
On top of an already hard time at keeping up, the plant had to halt production to deal with damages to the facility. A fire caused damage to the building's roof and employee entrance. Luckily all of the workers were able to get out safely.
These cars are essentially D.O.A., and The General is now getting rid of the bodies. And I repeat – you cannot get one of these as a parts car or a project car... and you definitely cannot turn one of them into a question C2 tribute car (no matter how badly you may want t0).