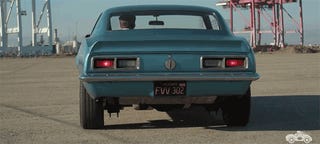 When you're working as a pizza guy and just got yourself a '68 Camaro that's seen better days, after naming her Lucy, you start to learn by doing simply because pepperoni won't pay for a paint shop. Adam Martin even ended up taking a car restoration course at Mcpherson College because of his car.
If you have an old speed machine and a garage with enough space for the two of you, nothing is impossible. Using basic tools and good old trial and error, you can learn new skills and make your ride much better all by yourself if you give it some time. From replacing the brakes to complete engine swaps, from a bit of spraying to a full on restoration, anything can happen in a two-car garage.
I'm pretty sure Finnegan and Friedburger over at Hot Rod Garage can also give you a few ideas how to turn your worn out wonder into something that won't fall off the road by default. Either way, for now, just listen to Adam's story about his last 17 years in this marriage with Lucy:
Talk about being in a good relationship!