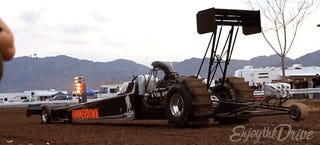 Top Fuel Sand Drags is what they call it. 7,000 horsepower nitro-burning V8s hooked up to paddle tires throwing dirt for 300 feet is what it looks like.
Bangshift points out that these are just asphalt Top Fuel cars with paddle tires on the back.
Somebody should sent one of these things to run some of the crazy sand drags they do over in the Gulf states.