The Morning Shift
All your daily car news in one convenient place. Isn't your time more important?
This is the Morning Shift, our one-stop daily roundup of all the auto news that's actually important — all in one place at 9:00 AM. Or, you could spend all day waiting for other sites to parcel it out to you one story at a time. Isn't your time more important?
---
1st Gear: Canadians Get A Shot At New Ford Jobs
The CBC reports that Ford is going to add a third shift at its plant in Oakville, Ontario, outside Toronto, creating about 400 jobs. Workers who were laid off by Ford in Windsor, across the river from Detroit, will get an opportunity to apply for the positions, as will workers in St. Thomas, which is outside London, Ontario. But there are more laid off workers than positions available, so the jobs will be awarded based on seniority. The third shift will be coming on at Oakville in the first quarter of 2013.
---
G/O Media may get a commission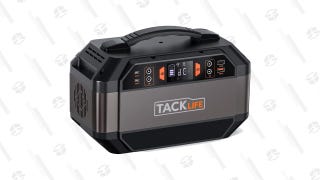 Tacklife Portable Solar Generator
2nd Gear: Toyota To U.S. Employees: You Can Go Now
In other jobs news, Business Lexington reports that Toyota is offering a voluntary retirement program to its American employees. The buyouts are good for employees who will have been at Toyota for at least 22 years by the end of March. (Yes, there are people who've been Toyota employees for more than two decades.) The company says 2,000 American employees are eligible, including 1,600 in Georgetown, KY. Toyota calls it the "Next Step" program.
Employees are offered two weeks pay for every year of service, capped at 25 years, plus an extra eight weeks of pay. People who have 25 years service will get full health care. They can set their retirement dates beginning in February and running through 2014. Toyota thinks about 20 to 30 percent of those eligible will take the offers, and expects to hire people to replace those who take the buyouts. One reason it's offering the program now is to manage attrition down the line. It doesn't want to see a big flood of people take off, and then be required to fill a bunch of positions all at once.
---
3rd Gear: Crash Of The Concorde Not Continental's Criminal Fault
The Associated Press reports on a court ruling that surprised the airline industry. A French appeals court threw out manslaughter convictions against Continental Airlines and a mechanic in the 2000 crash of an Air France Concorde. According to the original ruling, mechanic John Taylor incorrectly fitted a metal strip on a Continental DC-10 that took off just before the Concorde. The strip punctured one of the Concorde's tires, and the explosion ruptured the gas tank, causing the supersonic jet to crash into a hotel outside Paris, killing 109 people. The crash basically ended the Concorde's aviation history.
But the appeals court said the mistakes didn't make Continental criminally liable for the crash. Even if the mechanic knew he'd done wrong, he could never have imagined such a disaster. It noted that aviation experts knew for years that the Concorde's design made it vulnerable to an accident. However, the appeals court upheld civil penalties against Continental, and ordered it to pay restitution to Air France.
---
4th Gear: Ford Is Ready To Go Over The Fiscal Cliff, Others Aren't
Bloomberg says that Ford officials are making plans in case Congress and the Obama administration aren't able to agree on steps needed to avoid the fiscal cliff. But General Motors and Chrysler say they don't need to make additional moves to prepare. Some analysts think auto sales could plunge by as much as 20 percent if there isn't agreement to avoid tax increases and spending cuts coming at year end. At Ford, chief operating officer Mark Fields says the company wants to "be able to adjust our production appropriately and make sure we have the right amount of liquidity."
A failure to avoid the fiscal cliff and a resulting recession could mean an annual selling rate of 12 million to 13.5 million, versus the 15 million expected for 2013, according to Edmunds.com. Chrysler says it would like to see a deal sooner rather than later. "I'd rather deal with certainty of misery than the misery of uncertainty," Reid Bigland, Chrysler Group LLC's sales chief, said in an interview with Bloomberg. At GM, North American boss Mark Reuss says the company isn't taking special steps, because it has already lowered its break even point to a selling rate of 11 million.
---
5th Gear: Sergio Confirms Alfa Romeo Sedan
From Automobile and sweater model Sergio Marchionne comes confirmation that not just the Miata-based Alfa will be RWD. Marchionne told Automobile that the only true Alfas in the lineup are the Mito and Giulietta and that a RWD sedan is in the works.
"The Alfa lineup doesn't need to consist entirely of RWD cars, he says, "but it needs to have rear-wheel-drive cars. The 4C that is coming is rear-wheel-drive." There's the SRT Barracuda we've already talked about, and apparently a "premium" sedan that could share the same RWD platform.
On a side note, this insight comes from Todd Lassa, who just landed the gig as Executive Editor over at Automobile. It's a good move and we're glad to see his journalistic skills no longer languishing at Motor Trend.
---
Reverse: Ralph Nader Becomes A Household Name
On this day in 1966, Unsafe At Any Speed: The Designed-In Dangers Of The American Automobile was published, and quickly hit the best-seller list. It made a household name out of a 32-year-old muckraker named Ralph Nader, and led to a series of new safety regulations. The book forever affected the reputation of the Chevrolet Corvair, which Nader said favored "stylistic pornography over engineering integrity." (And you thought he was dull?) The book is a must-read even now, because of its important role in changing the auto industry. [History]
Neutral
In keeping with our new discussion system, here's a place for you to own the floor. We're asking each day what you think about an issue that comes up in TMS.
Today, have you read Unsafe At Any Speed? What do you think Nader's legacy will be? Any thoughts about the Corvair? Remember there's no right answer or wrong answer. It's Neutral.
Show us your tips!
Got tips for our editors? Want to anonymously dish some dirt on a competitor? Know something about a secret car? Email us at tips@jalopnik.com.
Lost in our new layout?
Click here for the Opposite Lock or Tips forums. Want a more "blog-like" look? Click the button up top next to "Top Stories."
Get more Jalopnik!
Want even more Jalopnik? Want to know which of your friends read us? "Like" us on Facebook, follow us on Twitter, and subscribe to our newsletter.