This is the Morning Shift, our one-stop daily roundup of all the auto news that's actually important — all in one place at 9:00 AM. Or, you could spend all day waiting for other sites to parcel it out to you one story at a time. Isn't your time more important?
---
1st Gear: Fiat: Imported From Turin
Bloomberg says Sergio Marchionne told the Italian government that he wants to ship more cars from Italy to markets outside Europe. That's right in line with what Marchionne has said about producing Chrysler vehicles in Italy, and also the company's plans to sell more Fiat models in the United States. Marchionne met with the Italian prime minister, Mario Monti, in Rome for more than five hours on Saturday. The Italian government is going to set up a working group to help with the export push.
Bloomberg says Fiat didn't ask for state aid, and also didn't discuss job cuts or plant closings with the prime minister. But Fiat is set to trim its management ranks in Europe by 20 percent, in order to reduce its operating losses. All of this comes as Chrysler and the Canadian Auto Workers are holding talks on a new contract. Ford workers in Canada approve their contract this weekend, and the CAW has reached a deal with GM in Canada as well. Marchionne has had some sharp words for the CAW, and Chrysler officials think the contract is too pricey, but the deals at Ford and GM might leave it with no choice but to accept the pattern. After all, the Canadian government came through with some money when Chrysler was just about to liquidate. And a favor is a favor.
G/O Media may get a commission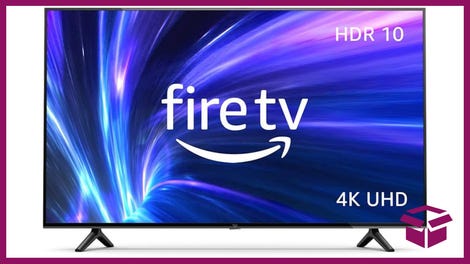 42% Off
Amazon Fire TV 50" 4K Smart TV
---
2nd Gear: A Maserati For Some Seasons
When automakers make a lightweight, hardcore version of one of their sports cars, they always start off with the coupe since it's an inherently better platform to create a performance car. Then they invariably cave to demand and make a convertible version. More »
---
---
3rd Gear: Is There A Barracuda In Chrysler's Future?
Getting back to Chrysler, Car and Driver says Chrysler is going to replace the Dodge Challenger with the 2015 SRT Barracuda. There have been rumors about this for months, but Car and Driver says Chrysler has finally figured out its plan. According to the magazine, Dodge would like to export the Challenger, but its size limits overseas sales potential. Since fuel economy is a top priority — especially since there are four-cylinder versions coming of both Mustang and Camaro — Chrysler needed to slim down Challenger. Meanwhile, Fiat has been looking for a rear-drive platform for use by Lancia, Alfa Romeo, and possibly Maserati. These factors motivated Chrysler to develop a new platform, and the Barracuda will be its first result, according to Car and Driver.
It says the 'Cuda will be about the same size as the current Mustang, with a wheelbase more than six inches shorter than the Challenger's. Its rear track and overall width are expected to shrink by a bit more than two inches, while weight will drop by between 250 and 300 pounds. The front suspension may move from control arms to a strut setup; the rear suspension will remain multi-link, with new geometry. Sound like something you'd like to drive?
---
4th Gear: Volvo CEO Goes On Leave After A Stroke
The Associated Press reports that the CEO of Volvo, Stefan Jacoby, is taking a leave for the next month to recover from a stroke. Jacoby has run Volvo for the past two years. Volvo says he suffered a mild stroke last week. His duties will be performed by chief financial officer Jan Gurander. Before he joined Volvo, Jacoby was the CEO of Volkswagen Group of America. Volvo has been owned by Chinese automaker Geely since 2010; before than, it was under Ford's wing.
---
Reverse: Happy Birthday to Honda
On this day in 1948, Soichiro Honda incorporated the Honda Motor Company in Hamamatshu, Japan. It wasn't exactly an instant success. Honda took over an empty factory after World War II and searched for something to put in it. When he discovered a cache of two-stroke motors, he affixed them to bicycle frames and rolled out his first motorcycles. They sold like hotcakes and Honda eventually got much more serious, about cycles and eventually cars. [History]
Neutral
In keeping with our new discussion system, here's a place for you to own the floor. We're asking each day what you think about an issue that comes up in TMS.
Let's talk about what Fiat and Chrysler are up to. Would you be interested in an Italian built Chrysler — or anything in the Fiat family? How do you feel about Barracuda? Remember there's no right answer or wrong answer. It's Neutral.
Show us your tips!
Got tips for our editors? Want to anonymously dish some dirt on a competitor? Know something about a secret car? Email us at tips@jalopnik.com.
Lost in our new layout?
Click here for the Opposite Lock or Tips forums. Want a more "blog-like" look? Click the button up top next to "Top Stories."
Get more Jalopnik!
Want even more Jalopnik? Want to know which of your friends read us? "Like" us on Facebook, follow us on Twitter, and subscribe to our newsletter.