Not a single NASCAR driver went on track at Indianapolis Motor Speedway this weekend thanks to a total washout, and everyone was obviously a little antsy when the rain-delayed races finally got going today. The first "finish" of the day had four drivers cross the line within inches of each other.
That "finish" mention is in quotes for a reason—most top-level NASCAR races now have three finishes per race, in an attempt by NASCAR to break races into different segments and be more like ball sports. Most NASCAR races have three segments, or "stages," with championship points given at the end of the first two stages and the last one acting like a regular race win.
Now that we've gotten the mind-spinning part out of the way, this was the first finish of the day in the delayed NASCAR Xfinity Series race Monday. Nobody had any laps on their cars at Indianapolis before this because rain canceled practice and qualifying, but everyone seemed to want that first stage win—badly enough to cross the start-finish line four wide in a near photo finish.
Just check this stuff out:
G/O Media may get a commission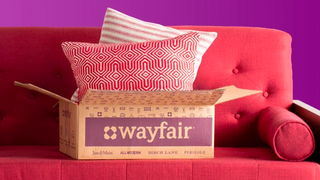 Big deals
Wayfair Surplus Sale
John Hunter Nemechek crossed the line first, and the results say Nemechek was only 0.036 seconds ahead of fourth-place finisher Justin Allgaier when he did. Runner-up finisher Ryan Preece crossed the line 0.013 seconds back, and third, Cole Custer, was 0.028 seconds back.
The first stage was almost guaranteed a good finish, though, thanks to a couple of things: The stage restarted with one lap left, and the aerodynamic package NASCAR has on the cars almost forces them run closer together. It's a high-drag package with a restrictor plate on the engine, downing horsepower and making the cars less aero dependent for downforce. That means more passing and less stringing out, despite not everyone being a fan because it's closer to crapshoot plate racing at Daytona and Talladega than it is to actual racing.
But, regardless of the steps taken to get there, it's hard to argue a four-wide photo finish.