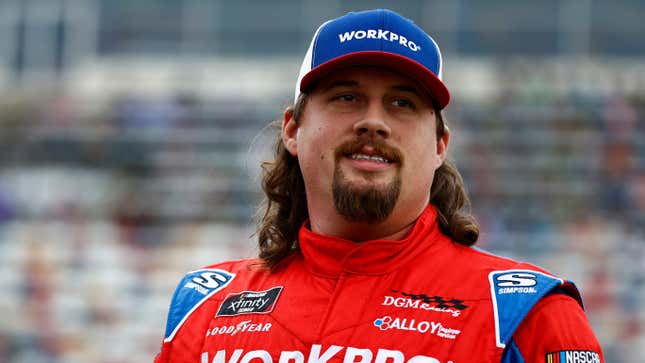 On Saturday, NASCAR Xfinity Series driver Josh Williams found himself in a bit of a situation. According to NBC Sports, after being involved in a wreck, his team attempted to repair his car with racing-grade duct tape known as bear bond, but once he got back on the track, the tape on his car started falling off. Race officials thought it was a safety issue, so they ordered him to park his car. But while they meant for him to park in the garage, he took a different approach and parked on the start/finish line before walking off the track. Turns out, NASCAR didn't like that decision, so they've suspended him.
In case you missed it:
NBC Sports reports that Williams will only be suspended from one race, meaning he won't be able to compete in the Pit Boss 250 at Circuit of The Americas on Saturday. That's certainly not the worst punishment he could have received, but as the driver for a small team that isn't exactly swimming in major sponsor cash, it's not quite a slap on the wrist, either.
After leaving the track, Forbes reports that when a cameraman approached him, Williams said, "What are they going to do, fine me? I can't afford to pay it." But even if he had been fined, he still would have been OK thanks to fellow driver Denny Hamlin who tweeted at him offering to pay any potential fine.
NASCAR officials made Williams sit in the hauler for the remainder of the race, where he presumably received a stern lecture and a few snacks while he cooled off.
After meeting with officials, Williams told reporters, "We all work really hard and to only run 'X' amount of laps and then to have something like a piece of Bear Bond and put us out of the race, it's really frustrating. Small team. We work really hard. We've got to make our sponsors happy, right? It doesn't do any good sitting in the garage. It is what it is. We'll learn from it and move on."
Fans have also shown their support after Williams pulled his little stunt, with enough demand for merchandise to commemorate the occasion that he's now selling t-shirts.
Williams will return to racing on April 1 where he'll compete in the ToyotaCare 250.