This is the Morning Shift, our one-stop daily roundup of all the auto news that's actually important — all in one place at 9:00 AM. Or, you could spend all day waiting for other sites to parcel it out to you one story at a time. Isn't your time more important?
---
1st Gear: NHTSA Probes Chevy Volt Harder After More Fires
Bloomberg reports that the Chevrolet Volt is now the subject of an official U.S. safety probe after three more of its lithium-ion batteries, supplied by LG Chem Ltd., were damaged in crash tests last week, two of the damages causing fires. This comes after a Volt caught fire three weeks after a side-impact crash test May 12 while parked at a testing center in Wisconsin. Chevy Volt owners whose vehicles have not been in a serious crash should not be concerned, the agency said.
G/O Media may get a commission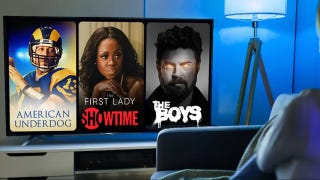 UNDER $1
99¢ Prime Video Channels
---
2nd Gear: New Gumpert Heading To Geneva
Earlier this year at the Geneva Motor Show, Gumpert whipped out the Tornante, a slightly more sexy version of the German automaker's batshit-insane Apollo supercar. For next March's 2012 Geneva Motor Show Gumpert plans to unveil something new, releasing this teaser shot along with the message that the car will make an "unmistakable" sound. According to Motor Authority, at first glance the car looks like just another Apollo variant, complete with a roof-mounted intake. However, closer inspection shows off a few subtle differences in the headlights and the grille, though it's hard to tell.
---
3rd Gear: Small Cars To Pass Midsize Sedans For First Time In Decades
Midsize sedans have been America's preferred-size cars for decades. Except, as the Associated Press reports this weekend, that's changing. More people are choosing small cars like the Chevy Cruze — and even smaller ones like the Honda Fit — because they're worried about both current gas prices, but also future gas prices, as well as car payments. But it's also because a new breed of small cars hitting the market this year aren't the little econo-shitboxes of old. They've got features! They've got toys! They've got style! Hell, compact cars may outsell midsize cars as early as this year, according to forecasts by J.D. Power and Associates. That hasn't happened in at least two decades.
---
4th Gear: This Is The 2013 Boss 302's "Gotta Have It Green" Paint
When the 2013 Boss 302 Mustang was introduced a few weeks ago at the L.A. Auto Show, they said they would add two new colors to the color palette: School Bus Yellow and Gotta Have It Green. Ford showed School Bus Yellow on the Laguna Seca model, but the new green wasn't anywhere to be seen. Meanwhile, Boss 302 fans curious as to what Gotta Have It Green will look like need to wait no longer. Based on these photos caught by Boss302Forums, it appears that the Ford's newest green's close in shade to classic Grabber Green.
---
5th Gear: Fun-Vii Is "Waku Waku Doki Doki"
This is the Toyota Fun-Vii, a futuristic concept car that's designed to resemble "a giant smartphone on four wheels," unveiled today ahead of this week's Tokyo Motor Show. The car is like a personal computer in that it allows drivers to connect with dealers and others with a tap of a touch-panel door. "A car must appeal to our emotions," Toyota CEO Akio Toyoda said today, using the Japanese term "waku waku doki doki," referring to a heart aflutter with anticipation. No, really, that's the word transcribed in English. I'm not kidding. Anyway, Toyota said the Fun Vii is an example of what might be in the works sometime in the future. Specifically, they said "20XX" — meaning, they gave no specific dates. Also, you know, they'll be bringing the Toyota GT 86 and some hybrid crap.
---
6th Gear: BMW To Trade Diesel Engines To Toyota For Hybrid Tech
Toyota and BMW are planning to cooperate on clean engine technologies, say financial analysts and Bloomberg, citing newspaper reports in Japan. A report from J.P. Morgan's Tokyo office claim Toyota will get diesel engines from BMW, in exchange for giving BMW hybrid tech, based on a report in the Nikon Keizai Shimbun.
---
Reverse:
⏎ 'Tintin' Film Casts Cars Among Star Performers. [New York Times]
⏎ Strong Yen Forces Toyota to Rethink Japan-Based Compact-Car Production. [Wall Street Journal]
⏎ Nissan NV Food Trucks Compared: Coolhaus vs. The Grilled Cheese Truck. [Car & Driver]
⏎ Mazda and Sollers have created a JV. [RussiaToday]
⏎ Engineer's Return to China Leads to Jail and Limbo. [New York Times]
---
Today in Automotive History:
On this Thanksgiving Day in 1895, piloting a gas-powered "horseless carriage" of his and his brother's own design, the mechanic, inventor and now racecar driver Frank Duryea wins the first motor-car race in the United States. The race, sponsored by the Chicago Times-Herald, was intended to drum up publicity for the nascent American car industry. It worked, especially for the Duryeas: In the year after the Times-Herald race, the brothers sold 13 of their eponymous Motor Wagons, more than any other carmaker in America. [History]
Show us your tips!
Got tips for our editors? Want to anonymously dish some dirt on a competitor? Know something about a secret car? Email us at tips@jalopnik.com.
Lost in our new layout?
Click here for the Opposite Lock or Tips forums. Want a more "blog-like" look? Click the button up top next to "Top Stories."
Get more Jalopnik!
Want even more Jalopnik? Want to know which of your friends read us? "Like" us on Facebook and follow us on Twitter.
---
You can keep up with Ray Wert, the author of this post, on Google+, Twitter or Facebook.