With our new design comes the return of Morning Shift, our one-stop daily morning roundup of all the auto news that's actually important to you — right here on Jalopnik every weekday at 9:00 AM. It's all of the most important automotive news on the internet wrapped up neatly in a bow for you every morning.
---
Redesign Note: Loyal Jalopnik readers, if the redesign is still scary or buggy — try out "Jalopnik Blog" view. Also, your feedback is being heard and implemented. Please continue sending in bugs either by email or on our bug report comment page. Be proud — your feedback helped shape how the redesign works on the rest of the Gawker network as it's rolled out today. So let the wussy commenters on other Gawker sites know how tough Jalopnik commenters are because they didn't have the guts to try out the new redesign first.
---
G/O Media may get a commission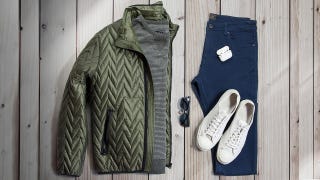 60% off
Jachs NY Fall Sale 60% Off
1st Gear: For all the hoopla over 18 carmaker commercials in last night's Super Bowl, only one made it into USA Today's annual Super Bowl Admeter rankingtop ten — the Volkswagen Darth Vader ad. Costing $3 million each for 23 30-second blocks, for $69 million total, was it well spent? If you're Hyundai, spending $9 million seeing two rated last by USA Today, not so much.
---
2nd Gear: But as we said before the big game, the Volkswagen Darth Vader ad would be the most talked about ad of the big game. But who was the kid under the helmet? His name's Max Page and he's six years old. Even more adorably, the kid's got a pacemaker. That's him above from this morning's Today Show.
---
3rd Gear: Our pick for best commercial, backed up by ad house Mullen, morning daily shows and my raging pro-Detroit heart-on, was Chrysler's Eminem "Imported from Detroit" ad. Should Em have driven a 300? If you look at which Chrysler needs buzz and is actually U.S.-assembled, then no, 200 was the right choice... even if the car sucks.
---
4th Gear: Although the second commercial didn't perform as well as the one with the adorable kid, the Volkswagen Beetle ad did accomplish one important thing — it teased the retro, Porsche-ified shape of the new new Beetle. Rowr. Also, was I the only person who liked Mini's "Have you ever crammed it in the boot before" ad?
---
5th Gear: Ford's setting standards Lincoln dealers must meet by year-end if they want to remain open (or become 109 that'll be cut). They include free car washes for owner vehicles being serviced, pulling down Mercury signs, and having 30% of used-vehicle inventory be certified pre-owned. No word on whether they'll also start selling cars that don't just look like silver Fords.
---
6th Gear: An update on Robert Kubica's condition after his painful crash this weekend was equally painful for Renault fans. After seven hours of surgery to reattach his partially-severed right hand, doctors say it will take six days to determine how that surgery went, but it appears unlikely he'll be racing in the 2011 F1 season.
---
Reverse:
⏎ When Consumer Reports says "jump," automakers ask how high. [Automotive News]
⏎ Aptera's still waiting on government money. [SoCalTech, Autoblog]
⏎ Ford's boosting production of vehicles by 13% this quarter thanks to higher demand for crossovers like the Explorer and Edge. [Bloomberg]
⏎ Lotus Engineering will hire 400 new engineers by 2015 to sell more third-party services to China. [GoAuto]
⏎ GM's North American President Mark Reuss wants to add dealerships in "key markets" on the East and West coast. Sure, but only if you kill some around the Midwest and make sure these new ones, you know, don't suck. [Detroit News]