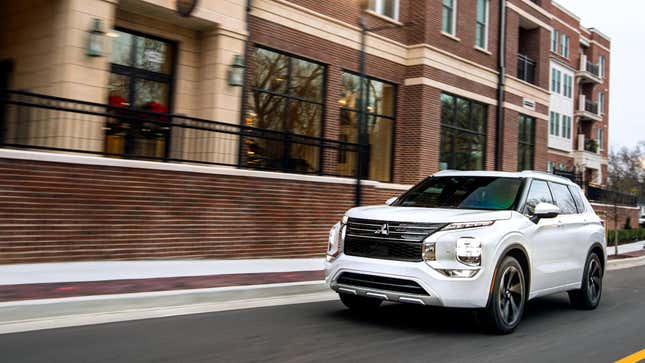 Another day, another backup camera recall. As car infotainment systems grow ever more complex, they always seem to leave one thing behind: The simple functionality of "show what's behind you on the screen." Mitsubishi is the latest company to fall victim to the trend and is now recalling 89,907 Outlander and Outlander PHEV crossovers as a result.
What Car Should You Buy: Efficient Comfort Edition
The issue with Outlanders is, conveniently, a software one. According to Mitsubishi's NHTSA recall filing, the problem occurs when the Outlander is shifted into reverse immediately after starting — within 40 seconds of the infotainment booting up. After six or more seconds spent in reverse, the car's backup camera can go black for a short period.
The blackout is described as "momentary," so it's unlikely to have any kind of catastrophic impact on your next parallel parking job. It is, however, a violation of the laws requiring backup cameras on all new U.S. cars. Momentary or no, the blackouts need to be fixed.
So, Mitsubishi is bringing in nearly 90,000 Outlanders for a software update. The company claims that Outlanders from 2022 and 2023 are affected, while only the 2023 model year for the Outlander PHEV is specifically named. Owners will be notified early next month if Mitsubishi thinks their car falls under the recall umbrella.
If you think your Outlander may be affected, head over to the NHTSA recall page and enter its VIN. If the recall pops up, know that a fix is on the way — if you even noticed the issue in the first place.