More than a year ago, we reported that executives at Mini came to the conclusion that they make too many variants. Even more recently, a board member said their lineup may be trimmed to four or five core cars. Now we have even more evidence of a brand shakeup at Mini, but it's one that could include... um, even more cars?
Once again, this information comes from BMW board member Peter Schwarzenbauer, here speaking to Reuters. He told the news agency that the company is still at least six months away from deciding whether to greenlight the electric two-seat Mini Superleggera Roadster, which would be their eighth variant. (For those curious, the current lineup is the Cooper, Four-Door Cooper, Countryman, Paceman, Cooper Convertible, Roadster and Coupe.)
I actually really liked the Superleggera Roadster, and I thought it was a far more attractive, appealing design than the current compromised Mini Roadster, a car for when you want a Mini Cooper but don't care for all that silly practicality that comes with it.
But the larger issue here is that Mini is still deciding whether to trim back or even expand their lineup of cars "as part of a potential brand shake-up."
The two main possibilities, according to Schwarzenbauer, include increasing the number of variants to 10 or reducing to five, which he said he slightly leaned towards, although he said that no decision had yet been taken.
He said even if the total number of models were reduced to focus on strong distinctive brands or "superheroes", there could still be new models.

"I think, slightly on the emotional side, that concentrating on five superheroes has a great appeal to me," he said, declining to specify which of the current models could be dropped.
G/O Media may get a commission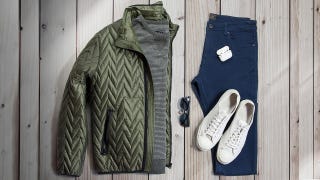 60% off
Jachs NY Fall Sale 60% Off
So they could either add three more variants or drop two existing ones. Considering the model expansion binge BMW has been on in recent years, and what it's done for their sales figures, I wouldn't be surprised at all if they went with the expansion instead.
Mini has an all-new Cooper out now on an all-new platform, and the significantly larger Mini Clubman should be out next year. Presumably, they'll do a new version of the Countryman at some point too, because that's a big seller. And I wouldn't mind seeing a production version of the Superleggera Roadster at some point either, hopefully with a conventional powerplant too.
But beyond that, which variants does Mini really need?