Another day, another Super Bowl car commercial that has been pre-released on YouTube. Fabulous.
We already vented about what a silly practice this is, and we've called out Hyundai's ads as being a swing and a miss. But honestly, I haven't minded Mercedes-Benz's campaign featuring Kate Upton all that much, because, well, you know. Kate Upton.
The latest ad for the Mercedes CLA sedan that was released today is kind of fun, even if it doesn't showcase too much of what the car can really do. What Mercedes would have you believe is that if you make a deal with the devil (played awesomely here by Willem Dafoe) for the CLA, then you get to date Kate Upton, perform a duet with Usher, get featured on magazine covers all over the world, and be mobbed by throngs of willing young women. Not bad for a front-wheel-drive Mercedes!
G/O Media may get a commission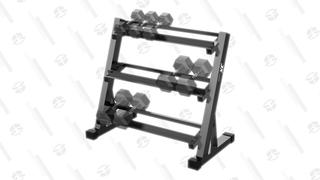 20% Off
JX Fitness Dumbbell Rack
Gains but tidy
Has a three-tier design to help store more weights more conveniently, can safely support up to 1000lbs of weight, which should be enough for most people, has a triangle base for stability, and also features anti-scratch feet which is great if you've built your own studio or workout in your garage.
But then our intrepid young lad sees that the CLA, despite its good looks, starts at a mere $29,900, well within his buying range. (Or, let's be honest, leasing range. This is a Mercedes, after all.) He tells Willem Dafoe thanks but no thanks, and the devil goes off to do devil stuff to other people.
Pretty good.