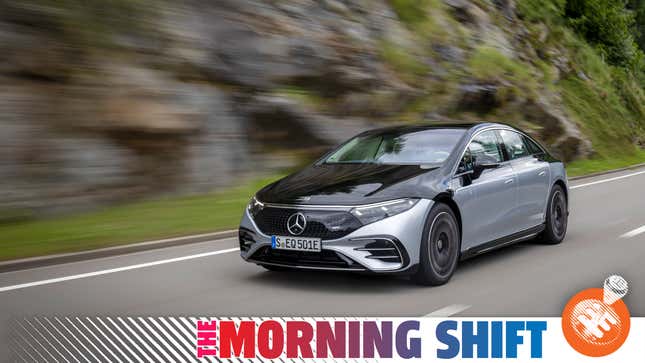 Mercedes looks to be ditching its EQ branding, investors want Elon Musk to stand trial in San Fransisco, and Beijing may tamp down Tesla's Shanghai expansion plans. All that and more in The Morning Shift for Thursday, January 12, 2023.

1st Gear: Mercedes Is Reportedly Losing Its EQ Branding For EVs
Mercedes-Benz has been pushing into the world of EVs with two vehicles: The EQS and creatively-named EQS SUV. But now that those two are established in the brand's lineup, it seems Mercedes wants to kill off the naming scheme entirely — instead just electrifying the A/C/E/S classes. From Reuters:
Mercedes-Benz (MBGn.DE) is set to drop the EQ product brand for battery-electric cars as soon as the next generation of compact cars, set to be on the market from the end of 2024, German daily Handelsblatt said on Thursday, citing company sources.

The decision is based on Chief Executive Ola Kaellenius' focus on electric-only cars, making the EQ brand redundant as Mercedes turns away from the combustion engine, Handelsblatt cited the sources as saying.
This is all because I made that 100 Gecs joke about the EQS SUV, isn't it? I'm not sorry. Also, is the EQS SUV even an SUV, or is it a crossover?
2nd Gear: Tesla Investors Want Elon Musk To Stand Trial In San Fransisco
In the legal world, there's something called a change of venue. If you don't think you'll get a fair trial in a given area, you can request to have your trial moved — giving you access to a different jury pool. Attorneys for Elon Musk, who is currently being sued by Tesla shareholders over stock manipulation back in 2018, have asked for just that: A change of venue to Texas. Why? They think Musks's Twitter layoffs have biased all of San Fransisco against him. From Reuters:
A lawsuit alleging Elon Musk manipulated Tesla Inc's (TSLA.O) stock in 2018 should go to trial next week and he will be able to find unbiased jurors in San Francisco, despite local animosity, said a court filing by shareholders who are suing him for billions of dollars.

Tesla shareholders argued it would be unfair to move the trial to Texas as requested by Musk, who has outraged many in Northern California with the steep job cuts he ordered at Twitter, a San Francisco company he bought in October.
Musk's been hoisted by his own petard so many times that I'm beginning to wonder if it's some kind of fetish for him. I'm not sure if that would be better or worse than the alternative — he's just making his own life this difficult by accident.
3rd Gear: Speaking Of Tesla, Elon, And Petards
Musk has irons in plenty of fires, a diversified portfolio that has never come back to bite him. One of those irons is a planned factory expansion in Shanghai, but it seems Beijing isn't too happy with how close Tesla sits to another of Musk's plans: Starlink. From Automotive News:
An expansion of Tesla Inc.'s plant in Shanghai has been delayed, according to people familiar with the matter, over data concerns that risk putting a roadblock in the way of the U.S. EV maker's ambition to keep growing in China.

...

Some central government officials expressed concern about a U.S. company with connections to Elon Musk's internet-from-space initiative Starlink having such a large presence in Asia's biggest economy, one of the people said. While Tesla cars aren't equipped with Starlink equipment, which would allow users to bypass China's Great Firewall, Beijing has become increasingly concerned about data security and social stability.
I have to wonder if Musk considered the Great Firewall, and its implications with regard to the Chinese government and his business ventures in the country, when forming Starlink. I imagine he didn't. But hey, he's a world record holder now!
4th Gear: Mexico And Canada vs. The Inflation Reduction Act
When the Inflation Reduction Act introduced new tax credits exclusively for U.S.-built EVs, people began to wonder how it would work with the USMCA — formerly NAFTA — agreement. As it turns out, the answer is "not well." From Automotive News:
Canada and Mexico have won their challenge to the U.S. interpretation of content rules for autos under the new North American trade pact, a dispute panel ruled on Wednesday, a decision that favors parts makers north and south of the U.S. border.

A year ago Canada and Mexico filed a complaint against the United States over how to apply automotive-sector content requirements under the United States-Mexico-Canada (USMCA) free trade agreement, which came into effect in 2020.

The U.S. interpretation of the rules is "inconsistent" with the USMCA, the panel said in its ruling.

"The decision is good for Canada and Mexico," said Flavio Volpe, president of Canada's Automotive Parts Manufacturers' Association.
We could've just expanded the tax credit, but no. Joe Manchin had to show up and make things complicated. Hope the oil money's worth it, bud. Think he bathes in the oil itself, like a Harkonnen?
5th Gear: The NTSB Thinks EVs Are Too Heavy
When your infrastructure is perfect, flawless, and well-maintained, you don't need to worry about little things like increases in vehicle weight. Unfortunately, we live in the United States, so our infrastructure is garbage and we're only ever investing less and less money into fixing it. So, the weight of battery-laden EVs becomes a problem. From Reuters:
U.S. National Transportation Safety Board Chair Jennifer Homendy on Wednesday raised concerns about the increased risk of severe injury and death from heavier electric vehicles on U.S. roads.

She cited a General Motors (GM.N) GMC Hummer EV that weighs over 9,000 pounds, up from about 6,000 pounds for the gasoline version, and the Ford F-150 Lightning EV (F.N), which is between 2,000 and 3,000 pounds heavier than the non-electric version.

The heavier weight "has a significant impact on safety for all road users," she said Wednesday in a speech. "We have to be careful that we aren't also creating unintended consequences: more death on our roads."​
Of course the NTSB's first example is the Hummer EV, a truck that weighs about three times as much as any sane vehicle. Welcome to the "concerned about the Hummer's impact on the world" club, Jennifer Homendy.
Reverse: Mr. President, We Must Not Allow A Mine Shaft Gap
Neutral: What's Next For Elon?
You remember that scene from The Simpsons, where Sideshow Bob is stepping on all those rakes? It's like that, but if Musk had laid all the rakes down himself. And labeled them all with the logos of his companies
On The Radio: RADWIMPS - "Zenzenzense"
I just rewatched Your Name last night. It never gets less heartbreaking on rewatches, and "Zenzenzense" never stops being a banger.