The Mercedes-Benz G-Class has been an international workhorse for decades. But here in the United States it only comes in two flavors: Flashy and aggressively ostentatious. If that's what you're in the market for check out our Ultimate Buyer's Guide!

What It's Like To Drive
Goad the 563 horsepower G63 AMG and it explodes off a stop with all the noise and violence of The Hulk getting a handjob. But the driver's limit for terror isn't truly tested until you try the steering wheel.
A set of high-performance Yokohama Advan tires wrapped around beautifully forged wheels do a lot to help the G63 corner, but there's just no way to overcome the physics of a breadbox shaped body sitting on a farm truck chassis from the 1970s.
The G-Class underpinnings are perfect for off-road though; it's tough and rigid and the only production vehicle to ship with three locking differentials. Unfortunately, in rough country those aggressive asphalt-eating tires become a weak point, slick enough to spin on wet grass.
G/O Media may get a commission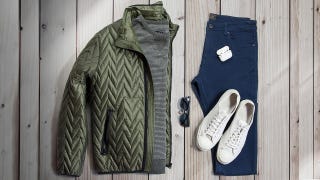 60% off
Jachs NY Fall Sale 60% Off
Visibility is excellent from the bolt-straight command console, build quality is good. Braking power with those massive AMG discs and calipers is on par with the gravitational pull of a black hole.
The general vibe of the AMG G-Wagens is immature, but the noise from the AMG's side-exit exhaust is more stirring than slanderous. Unlike the Range Rover SVR, which just screams for the sake of announcing itself, the Mercedes' roar has a guttural gravitas that shuts you up before you can point and laugh.
The refusal to pick a side between on-road and off-road bias is frustrating, but a hard charge through the seven-speed shiftable automatic does a pretty good job relieving stress.
If you want a truly "sporty" utility vehicle you won't find the same level of refinement that's been achieved by modern Range Rovers. But the G-Wagen has a heavier swagger, and with a solid set of mud tires it'd be almost impossible to stop.
What's New About The 2016 Mercedes G-Class
The G-Class, also called the G-Wagon (short for Geländewagen), has been around since 1979. A joint venture between Steyr-Daimler-Puch (modern day Magna Steyr) and Mercedes, the Austrian-built off-roader started off life as a utilitarian workhorse and military vehicle, and only more recently became the "it car" for the extremely wealthy and ostentatious.
The first G-Wagons (designated 460 and 461 and not offered in the U.S.) could be had as two-doors or four-doors and offered a slew of available diesel and gasoline engine options, all of which were mated to manual transmissions. In the early '80s, the G-wagon got an automatic transmission and air conditioning, but it wasn't until about 1989 that the mountain goat got its first real refresh.
For its 10th anniversary in 1989, Mercedes gave the G-wagon a revised chassis (designated 463), full-time four-wheel drive, anti-lock brakes, three locking differentials a much more luxurious interior.
The 463 generation G-Wagon saw lots of changes to engine options since its debut for the 1990 model year, including ridiculously powerful V8s and V12s from Mercedes's tuning division, AMG. In 2002, the G-wagon came the U.S. as a G500, and was sold only as an expensive luxury vehicle. No bargain-basement farm trucks for us.
That G500 came with a 5.0-liter V8 and five-speed automatic transmission. But in 2009, that G500 became a G550 and received a seven-speed auto and a more powerful 5.5-liter V8. The G550 was later joined by an AMG G63 model.
A 5.5-liter V8 powered both the G550 and AMG G63 until this year, 2016, when the 5.5-liter was tossed from the G550 and replaced with a biturbo 4.0-liter V8. The biturbo 5.5-liter in the AMG G63 sticks around, but gets a bump from 536 to 563 horsepower. In addition, 2016 sees the reemergence of the AMG G65 model, a 6.0-liter biturbo V12-powered fire-breather that makes 621 horsepower and romps the massive SUV to 60 MPH in 5.2 seconds.
Powertrain Breakdown
The powertrain situation on the G-Class is as hilarious as it is scary. It basically involves bolting ridiculously burly engines to a modern transmission and sending tons of power through a very, very old-school drivetrain.
The G-Class can be thrust forward by three enormously mighty twin-turbocharged engines. The base G550 sprints to 60 MPH in 5.8-seconds thanks to a 4.0-liter biturbo V8 that puts out 416 horsepower and 450 lb-ft of torque.
The AMG G63 ups the ante and makes a full 147 horsepower and 111 lb-ft more for a total of 563 ponies and 561 torques. That's enough to get the G63 to 60 MPH in 5.3 seconds.
The big-papa of them all, though, is the gargantuan V12 with the displacement of a swimming pool. That engine, found in the new-for-2016 AMG G65, makes 621 horsepower and 738 lb-ft of twist, and shoots the giant off-roader to 60 MPH in a terrifying-for-a-huge-SUV 5.2 seconds.
All G-wagons send their power to all four wheels via a seven-speed automatic transmission, a two-speed transfer case with a lockable center differential and two axles–each with their own lockable diff.
2016 Mercedes G-Class Engine Options

Engine
Max Horsepower (hp)
Max Torque (lb-ft)

4.0L Turbo V8


416 @ 5500 rpm


450 @ 2000 rpm


5.5L Turbo V8


563 @ TBD rpm


561 @ TBD rpm


6.0L Turbo V12
621 @ TBD rpm
738 @ TBD rpm
Fuel Economy Breakdown
Very, very few cars get as poor fuel economy on the highway as they do in the city. To achieve such a seemingly inconceivable feat would require the aerodynamic properties of a pole barn.
And that's basically what the G-Class is when you put it in a wind tunnel: a big barn trying its hardest to stop those pesky streamlines in their tracks.
Really, the G-Class is a hot mess on the EPA emission rolls. It gets worse fuel economy than damn near any vehicle for sale today. You could take a full-size truck and tow five G-wagons up a hill and still manage 14 MPG on the highway.
And 13 MPG combined? That's a number matched only by insanely powerful cars like the Lamborghini Aventador.
It's a good thing you're so powerful, mighty G-Wagon. Just hope gas stays cheaper than milk.
2016 Mercedes G-Class Fuel Economy Ratings (City/Hwy/Comb)

_
4.0L Turbo V8
5.5L Turbo V8
6.0L Turbo V12
7-Speed
Automatic
13/14/13
12/14/13
TBD
Trim Level Breakdown
The Mercedes G-Class comes as a G550, AMG C63 or AMG G65. The "entry level" G-Class gets a 4.0-liter V8, the AMG G63 gets a turbocharged 5.5-liter V8 and the AMG G65 will spin those wheels with a 6.0-liter turbo V12.
The G-Class gets electrohydraulic recirculating-ball power steering and solid coil-sprung axles front and rear. Brakes on the G550 are 12.4-inch discs in the front clamped by two-piston sliding calipers and 10.7-inchers squeezed by single-piston sliding grabbers the rear. Brakes on the AMG models are 14.9-inch discs in the front squished by six-piston calipers and 13-inch discs in the back clamped by single-piston sliding calipers.
G550: Starts at $119,900. Notable standard features: 4.0-liter direct-injection biturbo V8 with stop/start; seven-speed automatic transmission with paddle shifters; full-time four-wheel drive; two-speed transfer case; lockable front, rear and center differentials; dual sidepipe exhausts; 19-inch alloy wheels; bi-xenon headlamps; walnut interior wood trim; LED daytime running lights; power sunroof; rearview camera; Distronic adaptive cruise control; Blind Spot Assist; front and rear parking sensors; trailer stability assist; six airbags; keyless entry; rain-sensing wipers; Nappa leather seats; 10-way power heated and vented front seats with memory; dual-zone climate control; heated rear seats; heated windshield; power tilt/telescoping steering column; 4.5-inch cluster display; auto-dimming rearview mirror; Brake hold feature; 80GB hard-drive navigation; Bluetooth; Harman Kardon 12-speaker 450W sound system; voice control with learning; COMAND infotainment system with central controller for seven-inch display; in-dash DVD/CD player and SD card reader. Notable options: 19-inch black AMG wheels ($500); various interior colors (up to $1,950); various interior trims (up to $2,950); suede headliner ($1,750); heated steering wheel ($250); Rear Seat Entertainment System: LCD monitors in head restraints, wireless headphones, remotes ($2,650); Electronically adjustable shock absorbers ($1,400);
AMG G63: Starts at $139,900. Notable standard features over G550: 5.5-liter biturbo V8; AMG sport exhaust; AMG SPEEDSHIFT PLUS transmission with paddle shifters; 20-inch AMG alloy wheels; AMG steering wheel; suede headliner; unique leather upholstery; unique interior wood trim; large brakes; AMG calibrated dampers and spring rates; unique AMG E-SELECT gearshift. Notable options: AMG Performance Studio Package: 20-inch black AMG wheels; AMG Performance Studio paint treatment, AMG carbon fiber trim, designo Black Nappa leather with color stitching ($20,000); black AMG wheels ($0); various interior colors ($0); otherwise similar options as G550.
AMG G65: Starts at $217,900. Notable standard features over AMG G63: 6.0-liter biturbo V12; 21-inch AMG wheels; AMG G65 body styling; unique leather-trimmed seats. Notable options: various wheel choices ($0); various interior leather and trim choices ($0); heated steering wheel ($250); Rear Seat Entertainment System ($2,650); AMG Performance Studio Package ($20,000).
Which One We'd Buy
Since the European work-spec diesel-powered G-Wagen isn't available in the United States, the G550 is the only version of this vehicle that gets anywhere near "logical."
Buying a G just for the look? There's no shame, it looks beastly. But the SUV's signature look is bold enough to overshadow the AMG winglets. There; we just saved you $20,000!
The G550 is also the only option if you're planning on off-roading. You're just going to have to remove the AMG wheels to fit knobby tires anyway.
And if you're worried about being left in the slow lane, don't forget that the "base model" still has a turbocharged V8. The G63 AMG is so stupidly fast it's hard to even comprehend what the point of a G65 is. The G550 should still be able to blow your sunglasses into your skull if your right foot gets heavy.
Important Facts At A Glance:
MSRP: $119,900-$217,900 Top Speed: 130 MPH
Acceleration: 5.2s to 60 [G65 AMG]
MPG: 12 city / 15 hwy / 13 combined [G550]
Engines: 5.5-liter V8, 5.5-liter turbo V8, 6.0-liter turbo V12
Max Horsepower/Torque: 621 hp/738 lb-ft

Curb Weight: 5,820-5,913 IIHS Safety Rating: Not Tested
Transmissions: seven-speed automatic
Drivetrain Layout: Front Engine, 4WD
Photo credit: Mercedes