This is The Morning Shift, our one-stop daily roundup of all the auto news that's actually important — all in one place at 9:30 AM. Or, you could spend all day waiting for other sites to parse it out to you one story at a time. Isn't your time more important?
1st Gear: I WANT MARGINS!
I'm not saying that Mary Barra is a robot programmed by Dan Akerson to continue his legacy, but I'm not not saying that.
Rightly, Akerson understood that you can't keep building more and more cars without making any more money. Being the biggest car company in the world doesn't mean anything if you don't bank profits.
G/O Media may get a commission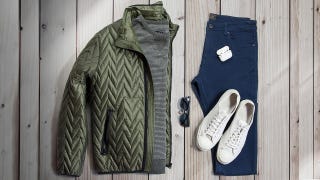 60% off
Jachs NY Fall Sale 60% Off
Thus Mary Barra is telling reporters that she wants basically the same thing. More margins.
More tellingly, is this paragraph:
Ms. Barra believes GM can leverage its management expertise to increase its global market share this year without altering its existing marketing and sales strategy. Its brands accounted for 11.5% of world-wide sales last year, unchanged from 2012.
So where does the money come from? Cheaping out? Platform sharing? I'm not concerned, but I am curious.
2nd Gear: Tesla Might Build A Plant In China?
Having just announced how they'd sell cars in China, Elon Musk told Bloomberg that he's going there and that they could build cars there. Enough cars to build a plant!
Even better, they're charging a fair amount for them!
"They're basically calling us huge idiots for not ripping off customers in China." Musk said. "I don't think ripping off customers is a good long-term strategy."
But here's the important bit:
"Long-term there's no question we'll have a factory in China," he said. "There is an argument for having that be our first major factory outside the U.S."
That probably makes sense, but who knows if it'll actually happen.
3rd Gear: Jeep Also Wants To Go Global (Global = China)
As we predicted, the 2014 Jeep Cherokee was a hit and now they're going to sell it to the rest of the world.
Last year the company sold a record 731,565 crossovers and SUVs and if you're going to not charge too much for them you're going to have to build them in places you can export at a reasonable cost.
"If you're going to achieve volumes in international, you need to expand the manufacturing footprint," Brand President Mike Manley told The Detroit News. "And the markets that come to mind are China, then Brazil and eventually Russia."
Yep.
4th Gear: Kia's Currency Problem
Poor Kia. They're making better cars but, unfortunately, they're also stuck with a currency (the Korean won) that's way too strong. The company's operating profit was up 61% year-over-year to $604 million, but most people expected a higher number.
What happened?Bloomberg explains:
Kia joins its largest shareholder Hyundai Motor Co. in reporting profit that missed estimates as the won appreciated, eroded the companies' competitiveness against Japanese makers in key markets such as the U.S. The companies, which share a chairman, are predicting their weakest combined sales growth in eight years as the stronger local currency saps overseas demand.
Yep, this is basically the inverse of the relationship between the South Koreans and the Japanese a few years ago that created huge growth for Hyundai and Kia.
5th Gear: SUPER BOWL!
This year is the year for automotive Super Bowl ads as numerous car companies are planning an all-out blitz (see what I did there?).
Mercedes is on the bench, but they're going to be replaced by Jaguar, backed up by GM, Ford, Chrysler, Hyundai, Kia, Toyota and VW according to the Freep.
Stay tuned to our Super Bowl Ad Watch page for more.
Reverse: We'll Always Have The Lark
On this day in 1871, Albert Russell Erskine, who headed up the pioneering American automaker Studebaker before it went bankrupt during the Great Depression, is born in Huntsville, Alabama.
[HISTORY]
Neutral: Profits? How long can GM continue the same strategy and bank profits before they start cutting corners? Or am I being pessimistic?
Photo Credit: Getty Images