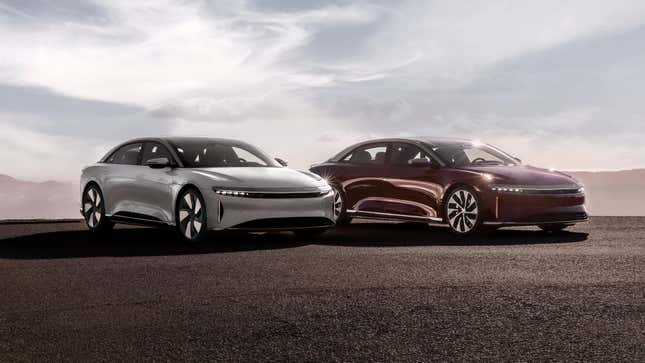 Lucid Motors apparently looked around the room, realized everyone else was cutting EV prices, and decided to do the same thing. The California-based automaker is giving customers who buy certain Air Tourings or Air Grand Tourings a $7,500 "credit." It'll match the tax credit given by the U.S. government for some EV purchases, but unlike that one, the money is paid back by Lucid.
This NYC Garage Takes Vanlife To The Next Level | Jalopnik Visits
However, the deal only lasts until March 31, so if you want to take advantage of the savings, you better buy your $100,000-plus Lucid Air soon.
"We think our customers still deserve a $7,500 credit for choosing an EV," Zak Edson, Lucid's vice president of sales and and services, said in a statement. "With this limited time offer, we hope to get Lucid Air into the hands of even more customers so they can experience the best for themselves."
CNBC reports that Lucid's actual reasoning behind the cuts is to clear out inventory. The outlet says there are currently 15 Air Grand Tourings and seven Air Tourings available for immediate delivery, according to Lucid's website.
In essence, the $7,500 "credit" is just a price cut with fancy packaging. The move follows in the footsteps of other EV automakers like Tesla and Ford. Both those companies have cut the prices of some of their electric vehicles ostensibly in order to make them eligible for the federal EV tax credit, though that whole situation keeps getting more complicated. That being said, Tesla did slightly raise the prices on some models last week.
The Lucid Air Touring and Grand Touring obviously do not fit into that price category, which is why the company is eating the costs itself. In fact, the base Air starts at $87,400, and that trim isn't getting any sort of cuts. The Air Touring starts at $107,400 and the Grand Touring comes in at $138,000 to start.