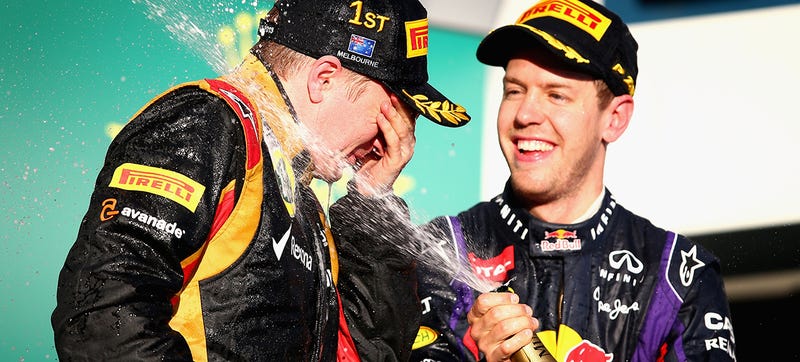 Lotus F1 just paid Finnish former F1 world champion Kimi Räikkönen. Lotus was so late in their payment that Kimi hasn't actually driven for them in over a year.
Kimi famously sat out the final races of the 2013 season for a back surgery. A 'back surgery.' Motorsport-Total reports that this back surgery may have been something of a protest by Kimi, given that Lotus hadn't paid him, the 2007 world champion, in many months.
Kimi drove for Lotus to much acclaim in 2012 and 2013, supposedly drawing up a significant portion of the team's resources and "represented a significant portion of [its] debt," team CEO Matthew Carter told Motorsport-Total.
Kimi reportedly cost $35 million over two years before presumably getting fed up, storming off to his yacht or something, then hitching a ride with his old pals at Ferrari.
Photo Credit: Getty Images (Kimi pictured winning the 2013 Aussie GP with Sebastian Vettel finishing third. Both now drive for Ferrari)