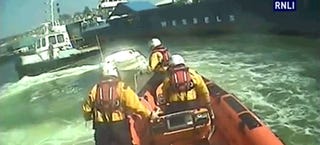 The Royal National Lifeboat Institution operating in Teignmouth, England is a long way from rodeo country, but that didn't stop one crew from lassoing an out-of-control speedboat and possibly saving a man's life.
This incident happened two weeks ago, and you can watch below as one expert throw subdues a speedboat turning loops with a stuck throttle.
The RNLI explained how it all happened, and why the rescue was so critical and how it kept a dude from getting minced by the boat's propellor.
A man who fell overboard from his speedboat knocked the throttle as he went, leaving the speedboat to spin out of control. He had been wearing a kill cord, but had taken it off to moor the boat when the accident happened. The volunteer crew of Teignmouth lifeboat raced to the scene and managed to stop the out of control boat. The man, who was wearing a lifejacket, was rescued and taken to hospital as a precaution.
All things considered, that's some pretty nice technique from that thrower.