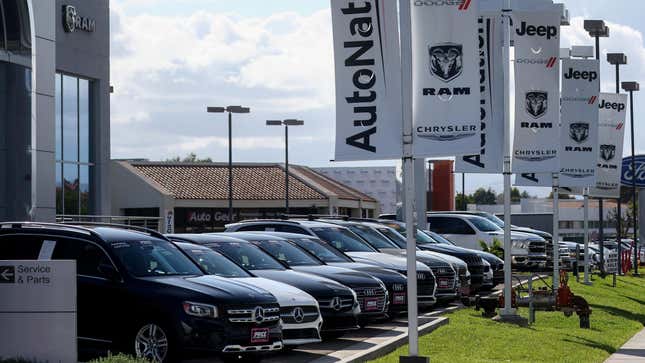 The car market is improving but things are still rough for most buyers and of course celebrity "finance experts" are happy to dole out their usual, mostly unhelpful, advice for folks struggling to find an affordable ride. To take one of the latest examples, Suze Orman has six car-buying tips, some of which are so contradictory you will probably just end up taking the bus.
Gen Z and Millenials Are Having Trouble Making Car Payments On Time
In case you missed it:
Suze Orman, like Dave Ramsey, makes their money giving budget advice to folks that often find themselves in bad situations when it comes to spending and debt. There are a lot of Americans that are frankly really bad at math and could use some financial discipline. However, when it comes to buying a car, these celebrity systems can often end up being impractical and unhelpful.

Recently, Yahoo! Finance published "Suze Orman's Top 6 Car-Buying Tips To Help You Save More," and while most of the advice seems sound on the surface, once you actually dig into the realities of the market, executing this plan is a bit more challenging.
First I'll address what Orman gets right. She says to boost your credit score by paying down debt because if your FICO is over 700 you have the best chance of getting the lowest rates possible. That being said, because of the way the credit system is designed, the amount of time it takes for your score to improve by 20 or 30 points is so much greater than the time it takes to drop. If you are one of those people with a FICO in the low to mid 600s, it could be months or even years before you get over that 700 threshold.

She also advises to shop your loans around and look at local credit unions for financing. This is excellent advice and you never want to be at the mercy of whatever the dealer is going to offer you, especially since current interest rates have been on the higher side. Beyond that, things start to come off the rails.

Orman opens with this -

"For starters, we need to get on the same page: A car is the worst investment," stated Orman on her website. "Why? Because from the moment you drive it off the lot it loses value. You will never recoup what you paid for the car when you eventually sell it. Got it? Good."
The idea that a car is an "investment" at all is the core problem of a lot of this advice. Cars, for the most part, are not investments. The better way to view them is as appliances or perhaps "necessary expenses," and you don't see Orman or Ramsey suggesting you buy the cheapest refrigerator you can from Craiglist.

Using that perspective shift is key to figuring out how to manage this purchase. Orman's tips, in this regard, aren't so helpful. She says to "Buy on the cheap" and that "your goal should be to buy the least expensive car. Period." But she also says to buy a "gently used" car that is 2-3 years old. Maybe Orman simply hasn't looked at the market recently, but 2- to 3-year-old cars, these days, are not "cheap."

For example, a quick scan of "gently used" Corollas in the NYC market with under 45,000 miles reveals prices in the low to mid $20,000 range.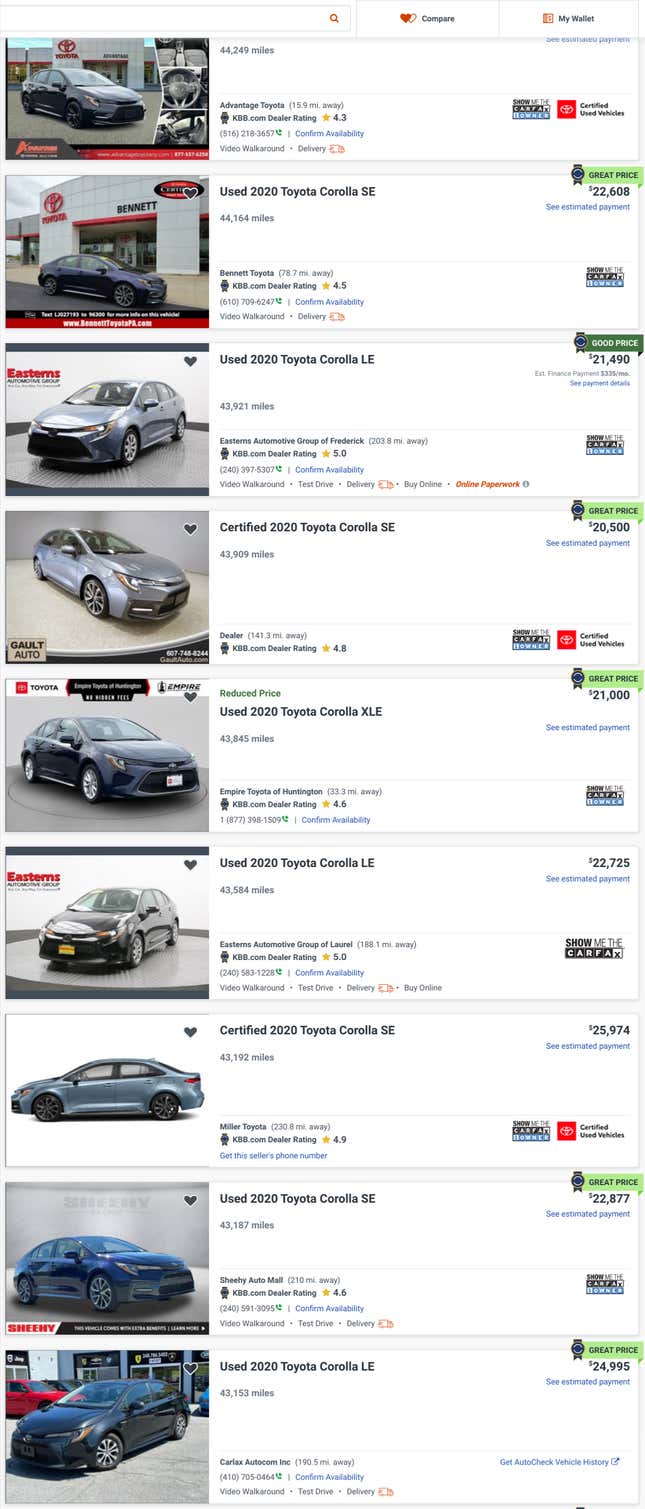 The MSRP on a brand-new Corolla LE is about $23,000. Some might argue that I cherry-picked a car that has high resale to prove a point, but I chose the Corolla because that is exactly the type of car that Orman and other "finance experts" would recommend. Which is something simple, safe, reliable, and "affordable."

Orman also says that people should take out loans no longer than three years, but let's say someone manages to score a used Corolla for about $20,000 and has enough down payment to cover the sales tax. At current interest rates for used cars — about 6 percent, assuming a top-tier credit score — someone could be paying over $600 per month … for a three-year-old Corolla.
What about EVs? Orman says that buyers could take advantage of tax credits, and while some pre-owned EVs do qualify, sourcing one of those "lightly used" electric vehicles at a reasonable price can be even more of a challenge than a regular old Corolla.
Budgeting for a car purchase is not rocket science, but I never understood why so-called money experts never suggest taking a big-picture look at your budget by determining a comfortable monthly payment and then working backward to see which cars would fall within that price range. There is nothing inherently wrong with taking out a 60 or even a 72-month loan on a quality car. But there is a rational middle ground between the $1,000 per month payments on a giant pickup and overpaying for a lightly used car.

---
Tom McParland is a contributing writer for Jalopnik and runs AutomatchConsulting.com. He takes the hassle out of buying or leasing a car. Got a car buying question? Send it to Tom@AutomatchConsulting.com