We reported in January Lamborghini Orange County's owner, Vik Keuylian, was wanted for defrauding Volkswagen Credit Inc. for $12 Million. He has agreed to plead guilty, potentially landing him in jail for 30 years.
Not only is Vik Keuylian looking at a 30 year jail sentence, but a $1 million fine for all the conniving that he's done. This is all pending a judge's approval on Monday at the U.S. District Court in Santa Ana.



For those not in the know, Vik Keuylian cheated the system by offering a Lamborghini fire sale at two of his California-based dealerships, netting him $8.1 million which he has yet to repay to VW Credit Inc., who originally financed the cars at a cost of $12 million.
G/O Media may get a commission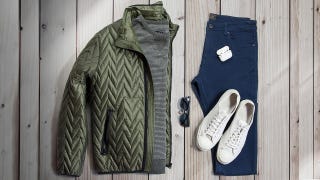 60% off
Jachs NY Fall Sale 60% Off
We originally asked how someone could sell 54 Lamborghinis (or 8% or Lamborghini's 2008 total U.S. sales) in eight days and it seems as if that question has been answered. He sold many to wealthy Hollywood elite like, Sharon Stone, Kobe Bryant, but also sold a package of 23 to Newport Beach entrepreneur, Levon Gugasian, owner of Newport Collectibles exotic auto dealership. Included in the plea agreement is one instance where Gugasian paid Keuylian, in cash, $60,430 for a single 2009 Lamborghini LP640. Silly thing is, VW Credit Inc. had originally financed it for $387,720.
Keuylian; Looks like you're up shit's creek without a paddle. We'll bring you more after the hearing on Monday.
You can read his plea agreement HERE.
U.S. Attorney's Press Release:
ORANGE COUNTY LUXURY CAR DEALER AGREES TO PLEAD GUILTY TO FEDERAL FRAUD CHARGES FOR BILKING COMPANY THAT LOANED HIM MONEY TO PURCHASE LAMBORGHINIS

SANTA ANA, Calif. – An Orange County man who owned two Lamborghini
dealerships that sold up to 5 percent of all Lamborghinis sold in the world has
agreed to plead guilty in a scheme to bilk the financing company that gave him
millions of dollars to purchase the luxury sports cars and put them on his lot.
Viken Keuylian, 45, of Laguna Hills, was charged with wire fraud in a
criminal information filed this morning in United States District Court. In a plea
agreement also filed this morning, Keuylian agreed to plead guilty to the charge,
which carries a statutory maximum penalty of 30 years in federal prison.
Keuylian was the owner of two recently closed automobile dealerships:
Platinum Motors, LLC (d.b.a. Lamborghini of Orange County) and Calabasas
EuroAutoGroup, LLC (d.b.a Lamborghini of Calabasas). Most of the Lamborghinis
at Keuylian's dealerships were purchased using money borrowed from
Volkswagen Credit Inc. (VCI). Under the loan agreement with VCI, Keuylian's
dealerships borrowed money from VCI to purchase cars, and, as each car was
sold, Keuylian was obligated to pay back the money loaned to purchase that
specific vehicle. While the cars were at the dealerships, VCI maintained a security
interest in the unsold cars.
As part of the scheme, Keuylian and others deceived VCI into believing that
certain cars remained on his lots, when in fact the vehicles had been sold and the
proceeds had been misappropriated to pay Keuylian's other business debts,
including debts associated with his vineyard, a commercial building on Pacific
Coast Highway in Newport Beach, and his Lotus dealership in Beverly Hills.
In October 2008, Keuylian sold at least 54 vehicles – mostly Lamborghinis,
but also several Bentleys and other high-end cars – for less than he owed VCI for
each car. Keuylian used the proceeds from these sales to make some payments to
VCI to pay back money he had already misappropriated. In relation to the 54 cars
that Keuylian sold in October 2008, VCI had loaned him $12,560,314 to purchase
the vehicles, but Keuylian received only $8,163,275 from the sales of these cars.
None of the funds paid for the 54 cars were used to pay back VCI for the money it
had loaned to purchase those cars.
In connection with this investigation, the FBI has taken into custody 13
Lamborghinis and an Audi that Keuylian had sold to end-users in relation to the
scheme.
Keuylian is expected to make his initial court appearance in federal court in
Santa Ana on Monday.
The case against Keuylian is a product of an investigation by the Federal
Bureau of Investigation.
CONTACT: Assistant United States Attorney Andrew Stolper
[via OCbiz]