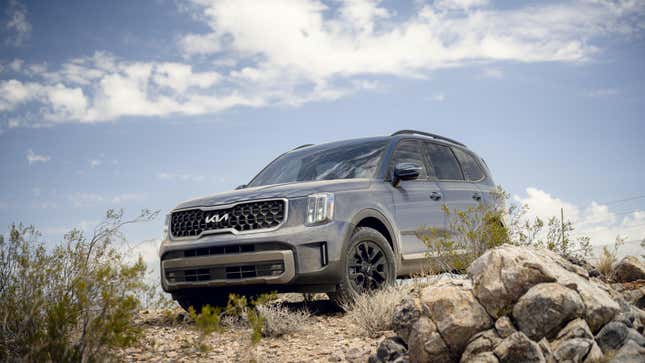 All the cool kids are stealing Kias and Hyundais. Owners of these cars, who likely thought their vehicles had security measures that went beyond "hope the thieves target someone else instead," are understandably upset — their expensive assets are disappearing before their eyes.
It's gotten so bad that 17 cities have filed independent lawsuits against Kia and Hyundai, but the companies think they shouldn't have to pay up. Instead, the two automakers are trying to shift the legal blame to outside parties: TikTok and police reformers.
A story from Reuters covers both excuses by the companies, starting with the TikTok defense. The outlet quoted Kia and Hyundai, which claimed they shouldn't have to pay for crimes "resulting from an unprecedented criminal social-media phenomenon." If the phenomenon had been precedented, do you think they wouldn't have tried this defense? I'm thinking no.
The automakers also tried to shift blame to "budgetary decision-making that diverted public safety resources away from the prevention and disruption of auto theft and reckless joyriding," a thinly-veiled jab at efforts to defund and restructure police departments across the United States. There's only one problem with this defense: Those defund efforts never happened, police spending continues to increase year-over-year, and cop budgets have never meaningfully correlated with crime rates anyway. Besides those minor details, though, the defense is airtight. Looking forward to seeing this one argued in court.

For the 17 cities currently suing Kia and Hyundai, this retort from the automakers is a statement. It says the companies won't roll over, won't admit liability, and won't hand out a penny that isn't mandated by a judge or jury. For the owners of those cars, it paints an even more disappointing picture: The company that sold you your car clearly doesn't have your best interests in mind.
Update 9/14/23 9:55 AM: Kia has reached out with a statement:
Hyundai is committed to the comprehensive actions we are undertaking to assist customers and communities affected by the persistent theft of certain vehicles not equipped with push-button ignitions and engine immobilizers. Our dealers across the country are maximizing the number of anti-theft software installations that can be performed on a daily basis, contributing to steadily increasing completion rates, which we report to NHTSA weekly. Hyundai recently piloted mobile service centers in Washington, D.C. (Link), St. Louis County, MO (Link) and plans to replicate in additional markets through year-end to further scale and speed installation of the software upgrade. We remain committed to ensuring the quality and integrity of our products, all of which are fully compliant with federal anti-theft requirements. Engine immobilizers are now standard on all Hyundai vehicles produced as of November 2021. Hyundai is committed to continuing our efforts in completing the software upgrade for all affected vehicles in the most effective manner possible. We are communicating with NHTSA on our many actions to assist our customers. For more information, please visit www.hyundaiantitheft.com.