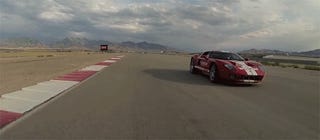 Is a Ford GT easy to drift? No. But Formula D pro Ryan Tuerck can drift just about anything, so here he is throwing the Blue Oval supercar sideways. Oh, and Ken Blierkegaard was there slaying tires, too.
It's all in the newest episode of Tuerck'd, where Ryan Twerk watches both dudes and ladies pee (not really), Ken SunBlock jumps a Ford Raptor, and everyone jumps off a cliff.
But damn, man. That Ford GT. I could watch it do powerslides all day.