German autojournalist Matthias Malmedia posted the above video yesterday, knocking on the door of 217 miles an hour down a public highway. The whole video is strange.
The first I saw of this video was from a Czech site claiming that Sebastian Vettel was driving. This piqued my interests, so to speak, that the four-time world champion recently signed to Ferrari would somehow nip away from the nearby grand prix course to put his life in danger on a public highway.
This all stemmed from Malmedia's description of this video he posted to Facebook.
Ich liebe #Vettel ! Kaum ist er offiziell bei #Ferrari unter Vertrag, fährt er sich in Abu Dhabi den Frust von der Seele:))) #f12 #schlechtesVorbildimStraßenverkehr
This translates to "I love Vettel! He's almost officially under contract with Ferrari, here he drives out his frustrations from his soul in Abu Dhabi :))) #f12 #badRoleModelinTraffic"
Malmedia, for those of you not aware, is a presenter on the TV show GRIP, which airs across Germany.
G/O Media may get a commission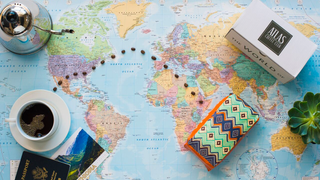 First Bag Free
Atlas Coffee Club - Free Coffee
Explore global coffee
With each bag, Atlas includes details on the coffee's tasting notes and a postcard about the region and its coffee history. And when you subscribe, you have options to tailor frequency, grind size, and roast preference of your beans, so you'll always be brewing the perfect cup.
Those of you familiar with German humor will see that this is a joke. A bad joke, but hey, it's German.
Why he would be dumb enough to post a video of doing 217 on a public highway weaving between other vehicles (it might look like the Ferrari gives the other cars lots of room, but that's all relative at 300+) remains unknown.