Of course you're a fan of Comedians in Cars Getting Coffee. Oh, you haven't got around to watching it? Well, could you start?
The comedian who drives the car to get coffee, Jerry Seinfeld, was kind enough to answer your questions for an hour today. You may also remember him from something called the 1990s, where he had a popular show on NBC that also had a lot of cars in it.
You asked some great questions and we found out a lot about his car history and take on modern Porsches, among other things. He also said he'd like a Porsche 918 Spyder, but needs some more eyeballs watching his current show. So watch it, and maybe you'll get a ride in his 918. Probably. Not.
Anyway, all the questions are in the original post below, but here are some of your great questions/his great responses I've plucked out:
Jerry, Thank you for taking the time to take our questions today.

My question: While planning a CCC episode, I understand that you try to select a car that best matches the guest's personality. Will you ever choose a Miata?

…..or is there anything wrong with that?

Mr. Seinfeld:

Thank you for watching my tv series and enjoying "The Outing" episode where Jerry and George are thought to be gay.

You know the Miata is a very important car, and I remember Letterman and I talking in 1990 thinking about getting one because we thought it was so great that a company was going back to traditional sports car values. The idea of making a new Elan was so cool, but it's not quite old enough and too popular for CCC. Not eccentric enough. i pick a car because I always wanted to drive it. Or its fun, or it relates to the guest.
G/O Media may get a commission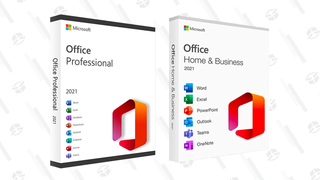 89% off
Microsoft Office Professional 2021 Lifetime License
Hi mister sir Jerry Seinfeld, love your work.

2 questions: What was your first car, and what's your current daily driver?

Also, I'm in the LA area, I've done a couple of open mic nights so I know I'm really funny (that makes me a comedian), so feel free to phone me if you ever want to get a cup of coffee and you're near Huntington Beach.

Thanks for being here!

Jerry:

1973 Fiat 128 Sport L was my first car.

Picking up the kids I have a 1985 Mercedes W123 Diesel Wagon it's blue, blue interior, turned out to be Chris Matthew's old car. 150,000 miles on it. I love it.

GT3 RS 4.0 for a joyride. All black.
How excited are you for the 918?

And have you driven one yet?

Jerry:

I haven't driven one yet, I think it's going to be the classic kind of Porsche accomplishment, the real world sports car, which is the 911 formula. It's a thoroughbred trackable car that you can drive everyday. No other company has that practical focus, which is what makes their philosophy so cool. I love seeing 918s in the sahara and the arctic circle, and I wonder if Ferrari is driving across the Kalahari. The big envelope. Anybody can do a narrow focus car, I like the big envelope,

I'm working on getting one. Depends on if Comedians In Cars gets picked up for another season. Please support us.
Jerry, love the show and great job with Comedians in Cars...here are my questions:

You only get one Porsche for the rest of your life, what do you pick?

What would be the ultimate Kramer car?

Also, what is the deal with the same Porsche styling for like 50 years? I mean if you are going to design cars, you wanna work for Porsche.
Designer 1- "Hey we what should this new 911 look like"
Designer 2- "Make it look like the last one...but nicer."
(Sorry couldn't resist)

Jerry:

I love this question, you're as completely infantile as I am. I'm going to pick and this will change every five minutes, 1989 Clubsport.

I think that brown Ford, I think LTD, in the Parking Garage, was his car. He needs an old American car.
Do you still eat cereal? What's your favorite? I've been on a Cinnamon Life kick lately. Thanks for the endless hours of entertainment Jerry!

Jerry:

Just oatmeal, I'm older now and oatmeal's good for your cholesterol.
Photos: Getty Images