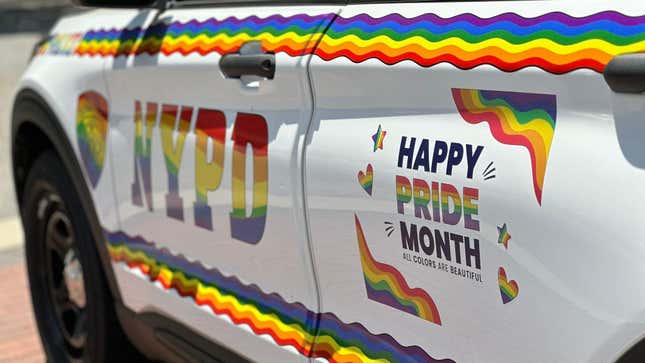 Sometimes coincidences are a little too good to be true. Take this NYPD Ford Explorer patrol car that's all decked out for Pride Month, for example. On the surface, it looks like standard-fare performative activism from the largest police department in the U.S., but you need to take another look. Do you see those four little words underneath the Pride Month decal? "All Colors Are Beautiful." It's a nice sentiment in theory, but it may also have a double meaning.
This NYC Garage Takes Vanlife To The Next Level | Jalopnik Visits
An acronym for this slogan could be, I don't know, ACAB. That, as I'm sure you know, usually stands for "All Cops Are Bastards" — a rallying cry for protests of police brutality and excessive force around the globe.
It all begs the question – how did this end up on the side of a police cruiser? It's a bit hard to say, but one thing is certain. This is 100 percent legit. The image was tweeted out by NYPD Commissioner Keechant Sewell. It's a real account, and Sewell is the real NYPD Commish.
Even if this mysterious ACAB message wasn't on the side of this patrol car, the NYPD embracing Pride is something to look at all on its own. After all, the Stonewall Inn riot of 1969 happened because of persecution from NYPD officers.
I fear it is now my life's mission to find the NYPD ACAB Explorer, but it isn't going to be too easy of a task. I also need to find out how this happened. Was it on purpose? Was it an oversight? Was it a very clever graphic designer who hoped no one in the NYPD would notice? I need to know.
I've started my quest by asking the NYPD for more information on the ACABxplorer, and I'll be sure to update you all when — and if — we get a response.