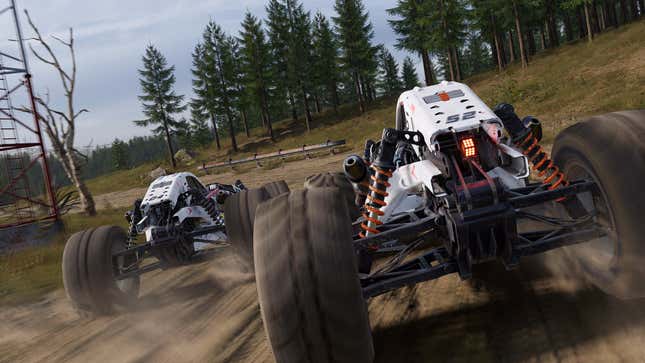 Over the last few years, iRacing has been expanding beyond its titular PC sim racing service toward other kinds of racing games on home consoles. In late 2021 the company acquired Orontes Games, the creator of a futuristic off-road racer called Drag: Outer Zones, followed by Monster Games, formerly the maker of the NASCAR Heat franchise. On Tuesday, iRacing announced that its next move for PlayStation and Xbox players will be a comprehensive update to Drag, bringing a new name: ExoCross.
This NYC Garage Takes Vanlife To The Next Level | Jalopnik Visits
In case you missed it:
This isn't a massive surprise: Drag became a part of iRacing's portfolio when it bought Orontes two years ago. That said, it's still surprising to see the iRacing label on a racing game that's about as far away from iRacing (the sim) as you can get. Drag is currently available in early access on Steam for PC players, but come this fall, it'll relaunch as ExoCross on modern consoles, too. From iRacing's press release:
The rebrand of DRAG: Outer Zones to ExoCross is the culmination of numerous gameplay and production improvements after iRacing acquired Orontes Games in December 2021. Both Orontes Games and iRacing have collaborated to develop the title. With extended updates across the board, the iRacing and Orontes teams sought to create branding and a backstory for the futuristic new sport featured in the game. The name ExoCross was chosen as a reflection of the rugged, fast-paced, other-world off-road racing present in the game.

To complete ExoCross, the Orontes team has grown with new dedicated roles in design, engine, art, gameplay, and AI development. Improvements to the on-track experience include physics updates, stability and traction control, and the addition of the game's boost mechanic to single-player play. Updates to the game interface include everything from a new onboarding flow to new pre- and post-race presentation sequences. The game has been ported successfully to PlayStation and Xbox to allow for simultaneous PC and console release.
If you're familiar with Drag, you know that while it is based on a decidedly unrealistic, fantastical concept of off-roading — think Sony's MotorStorm, but in the future — its physics are still very sophisticated. Drag's party piece is its "four-way contact patch traction technology," as Orontes describes it, and soft-body tire model all built on the team's proprietary game engine. That's a rare thing in 2023, when damn near everything, even cars, runs on Unreal Engine.
Even the least grounded arcade racers benefit from a careful, meticulous approach to physics — something that becomes immediately clear the moment you try Drag for yourself. There is a demo available now on Steam, which I fired up shortly before writing this to acquaint myself with the game. The environments are a little sparse in this old build, but there's a satisfying physicality to the handling here that makes executing proper drifts a blast. It serves powerful Wreckfest vibes, and any comparison to Wreckfest is no small praise.

iRacing says that those who already own Drag in early access —it currently costs $29 — will receive the update to ExoCross for free upon the relaunch. It's still unclear what 2023 will ultimately bring for racing game fans, as Forza Motorsport's launch date remains TBA, Codemasters and EA's poorly-kept secret of a WRC game has strangely yet to be unveiled and Test Drive Unlimited: Solar Crown still amounts to a CG trailer and some screenshots. ExoCross could very well be a sleeper among bigger names.