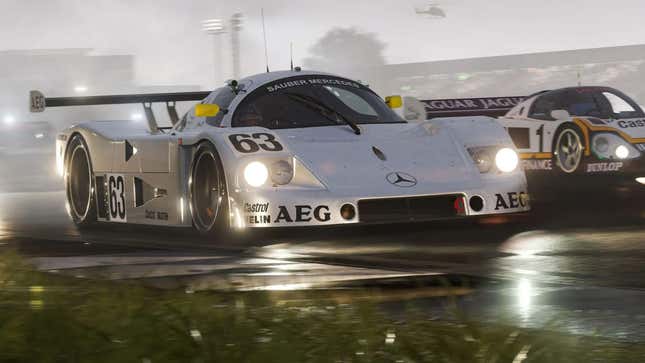 The rebooted Forza Motorsport was one of the stars of Microsoft's Xbox Developer Direct on Wednesday afternoon. The Xbox and PC racing sim remains due for release this year — although, suspiciously, the word "spring" appears to have vanished from the game's ETA.

The good news is that it's still shaping up to be a massive improvement on 2017's Forza Motorsport 7. Last year, Turn 10 confirmed three major details, including a big physics overhaul, support for real-time ray tracing and complete weather and time change simulation. We now also know that the next installment will feature more than 500 cars at launch, with 20 environments "built from the ground up for this generation" per Director of Motorsport Content Arthur Shek.
One hundred of those cars are new to the franchise, while five of the tracks have also never been seen before in an FM game. Those include Kyalami in South Africa, as well as the Mid Ohio Sports Car Course, a mainstay of the IndyCar and IMSA calendars. Both look phenomenal thanks to ray-traced global illumination, physically based lighting and volumetric fog as well as a procedural cloud system. They'll also drive more realistically than ever before — track surface temperatures fluctuate and the racing line now "rubbers in" over the course of a session.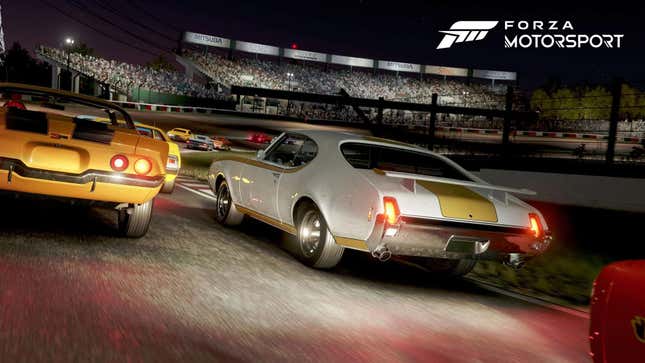 As you'd expect, the cars themselves haven't missed out on the love. Turn 10 used spectrophotometers to capture the intricacies of individual car paints and how they react to light; even the dirt accumulation model is unique to every vehicle, based on how air and particles flow around the body. That's why the recesses around the engine cover of a Corvette C8.R will look more grimy than the rest of the car at the conclusion of a hard-fought race.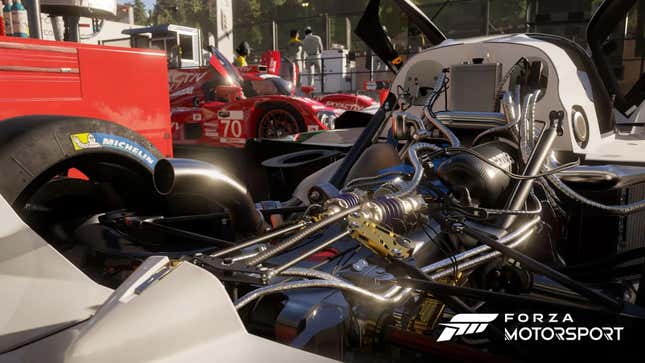 Audio development has continued where Forza Horizon 5 left off, with hardware-accelerated reverb that reacts dynamically to a vehicle's surroundings and support for Dolby Atmos spatial audio. FH5 was an excellent sounding game, and based on the clip provided, the new Motorsport entry will continue that streak.

While this info dump certainly gave us lots of footage to pour over, equally interesting are the parts of the experience we haven't seen. At the end of the video, Turn 10 Creative Director Chris Esaki teased a "new online racing mode" and a "car building-focused single-player career." Given that FM7's career was typically regarded as one of its weak points, we're especially curious to see how the offline experience has evolved for the franchise's new era.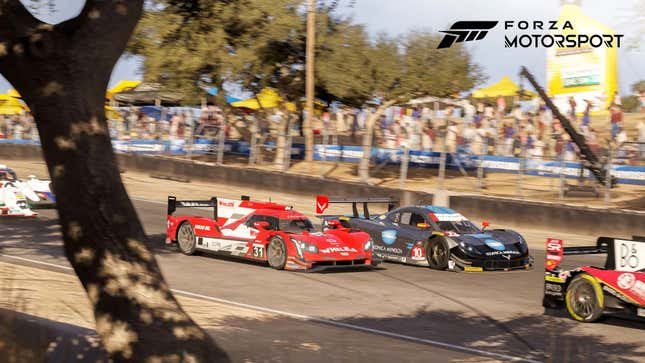 We're also disappointed — and frankly a little surprised, given the lengthy development period — that Turn 10 wasn't able to provide a concrete release date, and that Forza Motorsport has seemingly shed its spring launch window. Six years will have passed since FM7 by the time its sequel hits shelves. That's a long wait for what used to be an every-other-year series.
For what it's worth, The Game Awards' Geoff Keighley tweeted a "before end of June" ETA upon the event's conclusion, and we've reached out to Microsoft to inquire about it. If the game lands by June 21, technically that's still spring.

Below you can peruse a sample of cars from the full roster that Turn 10 revealed in a blog post. I for one am loving all the Group C prototypes, but the focus on modern race cars is encouraging to see, too.
1971 AMC Javelin AMX
1989 Aston Martin #18 Aston Martin AMR1
2016 Aston Martin Vulcan
2014 Audi #2 Audi Team Joest R18 e-tron quattro
2016 Audi #17 Rotek Racing TT RS
2016 Audi R8 V10 plus
2018 Audi #44 R8 LMS GT3
2018 Audi TT RS
1991 BMW M3
2017 BMW #24 BMW Team RLL M6 GTLM
2018 BMW #1 BMW M Motorsport M8 GTE
2019 Brabham BT62
2018 Bugatti Chiron
1970 Buick GSX
2021 Cadillac #31 Whelen Racing DPi-V.R
1969 Chevrolet Camaro Super Sport Coupe
1969 Chevrolet Nova Super Sport 396
1970 Chevrolet Camaro Z28
1970 Chevrolet Chevelle Super Sport 454
2015 Chevrolet #10 Konica Minolta Corvette Daytona Prototype
2018 Chevrolet Camaro ZL1 1LE
2020 Chevrolet #3 Corvette Racing C8.R
2020 Chevrolet Corvette Stingray Coupe
1972 Chrysler VH Valiant Charger R/T E49
1969 Dodge Charger R/T
1970 Dodge Challenger R/T
2018 Dodge Challenger SRT Demon
1965 Ford Mustang GT Coupe
1969 Ford Mustang Boss 302
1987 Ford Sierra Cosworth RS500
2005 Ford GT
2015 Ford #02 Chip Ganassi Racing Riley Mk XXVI Daytona Prototype
2016 Ford #66 Ford Racing GT Le Mans
2017 Ford GT
2019 Ginetta #6 Team LNT Ginetta G60-LT-P1
2020 Hyundai #98 Bryan Herta Autosport Veloster N
1983 Jaguar #44 Group 44 XJR-5
1988 Jaguar #1 Jaguar Racing XJR-9
1993 Jaguar XJ220
2015 Jaguar XKR-S GT
1988 Lamborghini Countach LP5000 QV
1997 Lamborghini Diablo SV
2016 Lamborghini Centenario LP 770-4
2020 Lamborghini Huracán EVO
1969 Lola #10 Simoniz Special T163
1990 Mazda MX-5 Miata
1991 Mazda #55 Mazda 787B
2010 Mazda #16 Mazda Racing B09/86
2014 Mazda #70 SpeedSource Lola B12/80
1969 McLaren #4 McLaren Cars M8B
2013 McLaren P1
2018 McLaren Senna
1989 Mercedes-Benz #63 Sauber-Mercedes C 9
1990 Mercedes-Benz 190E 2.5-16 Evolution II
2011 Mercedes-Benz SLS AMG
1970 Mercury Cougar Eliminator
1985 Nissan #83 GTP ZX-Turbo
1991 Nissan #23 Nissan R91CP
2015 Nissan #23 GT-R LM NISMO
2019 Nissan 370Z Nismo
2020 Nissan GT-R NISMO (R35)
1969 Oldsmobile Hurst/Olds 442
2017 Oreca #38 Jackie Chan DC Racing Oreca 07
1984 Peugeot 205 Turbo 16
1993 Peugeot #3 Peugeot Talbot Sport 905 EVO 1C
1969 Pontiac GTO Judge
1973 Pontiac Firebird Trans Am SD-455
1970 Porsche #3 917 LH
1983 Porsche #11 John Fitzpatrick Racing 956
1987 Porsche #17 Porsche AG 962C
2014 Porsche 918 Spyder
2017 Porsche #2 Porsche Team 919 Hybrid
2017 Porsche #92 Porsche GT Team 911 RSR
2018 Porsche 911 GT2 RS
2019 Porsche #70 Porsche Motorsport 935
2019 Porsche 911 GT3 RS
2021 Porsche 911 GT3
2021 Porsche Mission R
2015 Radical RXC Turbo
2004 Saleen S7
2014 Toyota #8 Toyota Racing TS040 HYBRID