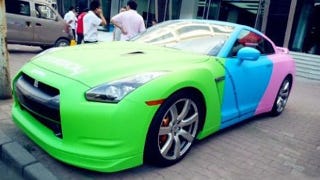 This Chinese Nissan GT-R stands out with its '90stastic three-tone lime green/blue/pink wrap. In West Guangzhou, born and raised...
The more you stare at this GT-R, the more it grows on you, unlike the spectacularly ugly pink Sbarro Ferrari 360.
We found this thing on Car News China, who also note that it was expensive customization, what with a new GTR retailing in China for about $245,000 USD (1.55 million yuan).
Photo Credit: Weibo, Car News China