While some college students don't need a car on campus, Imani goes to a school that is pretty isolated, and she needs a car to help her get around and help her enjoy some other activities. What car should she buy?

(Welcome back to What Car Should You Buy? Where we give real people real advice about buying cars. Do you want us to help you find a car? Submit your story on our form.)

Here is the scenario:

I go to a college in a very remote rural area. As such, everything is spaced out to the point where walking anywhere requires an extensive evaluation of my schedule to determine if I have time to get groceries or make it to class before it ends because I overslept. In addition to that, the city that I come from is about five hours away, so holiday breaks are always a hassle because I don't know how I'm going to get home since I don't have a car and I can't afford to pay for a $100 bus ticket every break.

I want this car to be fuel efficient, have comfortable seats, decent cargo capacity, good visibility, AWD or 4WD, and Bluetooth. I would LOVE for this car to come in a nontraditional color, but I'll settle for red or blue. I like to do horseback riding and do some dog training, so something that fits with those hobbies would be great.
Absolutely no old cars or Toyotas. I prefer the sleek and shiny newer cars, but I don't mind a used car as long as it has less than 40,000 miles. As for Toyotas, I like that they're reliable and safe, but in my opinion, they're all hideous and boring.

In terms of budget, I can spend up to $20,000 but would really like to be closer to $15,000
Quick Facts:
Budget: up to $20,000
Daily Driver: Yes
Location: The closest major city is Cleveland, Ohio
Wants: Rugged, practical, comfortable
Doesn't want: Something too old or a Toyota
Expert 1: Tom McParland - It Doesn't Get Any More College Than This
G/O Media may get a commission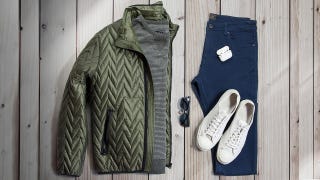 60% off
Jachs NY Fall Sale 60% Off
Despite how fun college life can be sometimes, being stuck on campus sucks, especially if it's expensive or difficult to get home or do other things. Since you are an outdoorsy person who wants something reliable and practical with all-wheel drive, it's really hard not to recommend a Subaru. But instead of the typical used Outback or Forester, I say look into the smaller Crosstrek.

You can find plenty of lightly used examples under $20,000 and some even have a Subaru certified pre-owned warranty attached to them, but I wouldn't get too hung up on that part. The Crosstrek packs everything you expect from a Subaru including the brands great AWD system and safety ratings.

The great thing about the Crosstrek is despite being a "rugged" crossover the gas mileage won't kill your college budget. It also comes in a bunch of cool and funky colors like orange or smurf blue. However, almost all of the examples in your area in a unique color are manual transmission cars. While it would be fun to learn if you prefer to stick with an automatic, here is a ruby red one with only 32,000 miles for $18,500.
Expert 2: Stef Schrader - Lover Of Comfy Fast Wagons

Hey, I live about five hours away from my parents' house, too! That's why I'm going to suggest something a little less rugged and a lot more comfortable: a Volvo wagon. Volvo even put a stuffed dog in the hatch of their BTCC wagon race car, which is one of the most beloved race cars of all time. Everybody loves a Volvo longroof.

Volvo V70s will have ample dog and human space, come with all wheel drive, can be found gently used with the mileage and sub-$20,000 price you're looking for, and most importantly, will be extremely comfy for those long-haul drives back home and/or into civilization. The styling is conservative but modern, and frankly doesn't look like it's aged. They could quietly build the same wagon from 2006 and I'm not sure I'd notice. It's just a nice, clean design.

If you're going for true unicorn status, though, you may want to go rooting around for a V70R. That's the go-fast version of the wagon, bound to start fun conversations with the select few who see the badge and smile a little.

Pictured above is a 2006 V70R for sale in Falls Church, Virginia, for $17,900 on Autotrader. That feels like a lot for an older car, but seems to be the going rate for sub-50,000 mile V70Rs, perhaps from rarity (less than 3,500 of that generation were sent to North America, ever), or perhaps from private seller "I know what I have"-ism. Kelley Blue Book suggests between $8,589 and $11,452 for a V70R in "very good" condition. So, if you're not willing to pay a seller's "make me sell it" price, it may take some digging, but you'd end up with something truly special if you can find one.

Expert 3: Patrick George — Here's A Real Answer
Initially I was going to disregard all of your requirements (Rugged? Fuel efficient? Four-wheel drive? Absolutely no Toyotas?) and tell you to get something like a used Suzuki Vitara, but I get the sense you want a real answer and not a goofy Jalopnik enthusiast choice.

Get a used Kia Sportage, ideally the latest generation one from 2017 and on. People still tend to look down on Kias, but they're wrong to do so. In recent years they've gotten vastly better in terms of quality and reliability, while still being great values. And the compact Sportage crossover has AWD and space for all your stuff, including dogs.
Here's one near you for a hair under $15,000. It has 50,000 miles, but I don't see that being any kind of issue for you. It's a good choice, give it a shot.
Expert 4: David Tracy—Shoot, I'm Tempted To Buy This
I'll suggest a vehicle that's been tempting me for a while now: the Nissan Xterra—particularly one in Solar Yellow.
These trucks look awesome, with that big bulge in the rear hatch, the tough black plastic cladding all over the place, and lots of ground clearance. No, they're not particularly fuel efficient, but they're dirt cheap, extremely capable off-road, and spacious.
Here's a manual one for six grand, and yes—it's got more than 40,000 miles on the odo—but I bet you could find a newer generation, low-mileage example (they made Xterras until 2015) for a few bucks more, and you'd still have something relatively cheap, weirdly-colored and rugged as all heck.
Expert 5: Mack Hogan — Be Weird And Practical
As far as I can tell, you want something that'll stand out. Crazy colors are one part of the puzzle, but a crazy design really seals the deal. That's why you need a Nissan Juke.

All-wheel drive? You betcha. Fuel-efficient? It's a four cylinder! Comfy seats? Probably! Add in the hatchback for practicality, the heated seat for keister toastin', bluetooth for the tunes and a two-two interior to keep things interesting and you have the perfect car for your needs.
You're welcome to get your Juke in the lovely red or yellow tone picture above, but I found this 2016 Nissan Juke SV in Fredericktown, OH in an even-better hue of purple for $14,891. Plus you get a certified-pre-owned warranty, which'll help ensure that your beer-and-pizza budget doesn't have to be diverted toward repairs.