Alex is the long-suffering Executive Managing Editor of the whole Gizmodo Media Group, which means he endures Jalopnik's constant emotional abuse. As the saying goes, shit flows upwards, and everyone knows we're full of it. He who has come to the inevitable conclusion that New York is trash if you actually want to drive somewhere, and he is looking for something inexpensive to escape the madness. What car should he buy?
(Welcome back to What Car Should You Buy? Where we give real people real advice about buying cars. Do you want us to help you find a car? Submit your story on our form.)

Here is the scenario:

It's been six years since I moved to New York and basically stopped driving. I'm over it. This city is a bullshit steaming hotbox or a bullshit frozen tundra. Take me to the wide open plains, the forests, the beaches of this great land and let me do it every weekend and for months at a time. NYC might be ok again after that.

Basically, I'm after a car for weekend road trips and also the Great American Road Trip. I need it to be cheap! I'm thinking of spending around $5,000. I want to be devastated to part with it after all the character-building and life-changing experiences we've shared.
Other than that I'm not too picky about the type of car. I just want it to get me places so I can have some fun.
Quick Facts:
Budget: up to $5,000
Daily Driver: Not really, more like a weekend escape pod
Location: Brooklyn, NY
Wants: Cheap, Fun, Relatively easy to maintain
Doesn't want: Something too hard to park or really bad on gas
Expert 1: Patrick George — I Know The Answer To This
G/O Media may get a commission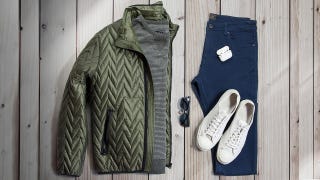 60% off
Jachs NY Fall Sale 60% Off
Alex is a very excellent blog dad. He's stuck with us through thick and thin, unlike many of our actual dads. Fun fact: he is from Australia, and I had to move to New York City because I can't understand him on the phone.

Originally, I was going to suggest he get something that speaks to his Aussie heritage and makes him feel less homesick—something like a Pontiac G8 or a Chevrolet SS, which as we all know were actually re-badged Holdens from his mother country. That way he could peace out on the weekends to hoon his car properly, ideally while slamming back a huge pint of Victoria Bitter and punching a koala in its smug little fucking face. But the G8 and SS haven't hit depreciation in the $5,000 range yet, so we're out of luck there.
Instead I'll be basic and just tell him that as one of Jalopnik's bosses he should get one of the most Jalopnik cars: a Mazda Miata.
It checks all the boxes here: it's fun on weekend trips (even if you have to pack light), it's cheap as hell to buy and maintain, dead reliable, great on gas, easy to park, and more fun to drive than many cars that are far more expensive.
Here's a lovely 1991 model with some nice aftermarket wheels way under budget at $3,400. Garage kept, too. The perfect New York City car.
Expert 2: Tom McParland — It Says It Right There In The Name
Alex, as a remote freelancer in New Jersey—or as you people put it, "God's Mistake"—always get a bit of enjoyment seeing my coworkers in the "greatest city in the world" get stuck underground on their third train to work or spend five hours hunting for press car parking. I'll take my house at the Jersey Shore and sub-par hot dogs.
Anyway, when it comes to jumping into car ownership you don't want to dive too far into the deep end. My colleagues are going to suggest all kinds of wacky and most likely unreliable selections that will be fun for a while but will ultimately convince you that the subway isn't so bad.
If you want to get out of the city, get a Ford Escape. The name says it all! But you don't want one of the crossover blobs that you see all the suburbanites driving—you want the first-generation Escape that was a big box on wheels. This car was co-developed with Mazda, which means that these are pretty damn reliable and cheap to fix. You may remember seeing them in taxi fleets for awhile, so if they can stand up to that abuse whatever you can throw at it should be just fine.
While this is an adventure-mobile, it's a manageable size and the V6 will get a reasonable 24 MPG on the highway. Here is a 2008 model nearby that looks like it's in reasonable shape.
Expert 3: David Tracy — Get A Pathfinder
As solidly average as the "Escape" pun was, Tom's recommendation is weak. Forget the Ford Escape. It's too boring. "I want to be devastated to part with it after all the character-building and life-changing experiences we've shared," you say in your request. Well, let me tell you, the chances of you building a deep, satisfying bond with that generic taxi cab crossover are close to zero.
Not to mention, you live in New York, and I've heard the front control arms and the rear shock mounts have a tendency to rust into nothingness. And I don't know about you, but to me, "nothingness" doesn't sound like a particularly structurally sound material.

Since you live in a bustling town, and you want to get the hell out, you should get something with four-wheel drive, a low-range transfer case, decent approach and departure angles and ground clearance. You know, that way you can get out deep into the sticks. What you need, Alex, is something rugged that has some actual off-road capability, but that's also reliable and cheap. So allow me to recommend the Nissan Pathfinder.
Sure, you could buy a truck that's more capable than a Pathfinder, but I've always considered the R50 generation to be a bargain off-roader. It's practical, reliable, capable off-road and comfortable. And decent examples, like the one above, can be bought for only around $3,000.
Though, admittedly, like the Escape, it's got some rust issues of their own. So keep an eye out for that.
Expert 4: Jason Torchinsky — I Got This, Dummy
Okay, Alex, first thing, forget everything everyone said above, because, aside from a few key traits, they're all wrong and it's just embarrassing. I have the solution for you here, and it's way cheaper than everyone else's: this Suzuki X90.
If you don't know what a Suzuki X90 is, I guess I have pity for you but that's about to end because, as a soon-to-be owner of one, you'll know all about them. It's the perfect big city escape car: it's tiny, so you can park it easily and anywhere in the city, it's four-wheel-drive, so when the shit eventually goes down you can just drive over the piles of writhing bodies to get the hell out of there, it's got Japanese quality, great on gas, and even has a removable roof, to give you the open air experience without the inevitable knife-cut-through the fabric roof that Patrick's Miata would eventually suffer from.
This one is only $1500! It's pleasingly strange-looking, like a shrunken little cartoon sedan wearing huge boots. It'll be easy to deal with in the city, and a blast when you leave.
You're done here. Enjoy.
Expert 5: Mack Hogan — Be Honest With Yourself And Get A Buick
I can't criticize Patrick because, as part of my intern contract, he and Mike Ballaban legally own my soul. However, if I were to criticize his choice, I would theoretically say he's trying to sell you a car he wants even though it's one of the worst cars imaginable for driving through New York traffic and on to a getaway.
The way I understand your submission, the car doesn't need to be fun. The car is a means to get to the fun, so I want you to do it in the least annoying way possible: at the wheel of a Buick. Specifically, a 2008 Lucerne with 99,000 miles.
Ideally, I'd get you into a Town Car or an old LeSabre. But you're concerned about space—something I, as a midwesterner, forget is a concern for people when buying a car—and you don't want to deal with V8 fuel economy. The Lucerne is a happy compromise, still big and comfortable but not quite as unmanageable.
Plus, its target demographic is old people. Buick knows this, so they designed it to be simple and, above all, not annoying. Everything in New York is annoying; it's too busy, too loud. The subway sucks. People are rude. Shouldn't one thing in your life just be nice? The Buick Lucerne is that thing, yours for only $2900.